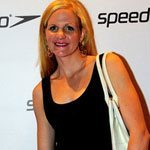 Nqaba Masthazi
Zimbabwe swimming sensation Kirsty Coventry had a double celebration at the weekend, as she announced her engagement to her long-time boyfriend and was voted into the International Olympics Committee's Athletes Commission. Coventry, who has won seven Olympic medals, but failed to win any at this year's Olympics in London, said it was an honour to represent athletes at the IOC.
"Thank you to all the Olympic athletes for voting me into the IOC Athletes Commission," she posted on her twitter account. "I am honoured to be able to represent you."
Others elected into the commission are Danka Bartekova of Slovakia and James Tomkins of Australia.  Earlier she had announced her engagement to boyfriend, Tyrone Seward "I have never been so happy. Yes better than gold," she beamed.