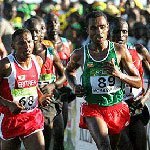 By Michael Madyira Zimbabwe concludes the 2012 London Olympics tour of duty this morning when Cuthbert Nyasango and Wirimai Zhuwawo take part in the men's marathon race which brings the curtain down on the  Games. With Team Zimbabwe having so far endured a torrid outing in London, the duo offers little medal hopes in a Herculean task where they come up against the dreaded Kenyans and Ethiopians in a four-lap 42-kilometre course which starts and finishes at The Mall near the Buckingham Palace.
Kenya's strength is emphasised by their comfort and pleasure of leaving behind world men's marathon record holder Patrick Makau who broke Haile Gebrselassie's record in Berlin  in September last year.
Twice world champion Abel Kirui will also be part of today's London cast as he seeks to reassert the African marathon dominance.
Zhuwawo's personal best of 2:12:38 which he attained at the Danzhou Marathon two years ago is six minutes behind the Olympic record set by the late Samuel Wanjiru at Beijing 2008.
Nyasango who failed to finish the 10 000m event in Beijing boasts of a 2:13:19 personal best from the 2009 Berlin Marathon.
Stung by Zimbabwe's record lowest number of athletes at Games as well as failure to get a medal so far, Sports and Recreation Commission director general Charles Nhemachena feels the country needs to draw a National Sports Strategic Plan.
"The fact that we are failing to get medals is an indicator of inadequate preparations and resources. We need to start investing in sport in a meaningful way," said Nhemachena.
"But most importantly we should draw a National Sports Strategic Plan because countries that do well at the Olympics do not leave preparations to individuals but to the government," he said.