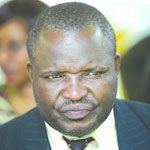 MUTARE SOUTH — HIV-positive villagers in Chishakwe area in Mutare South are facing serious challenges in accessing medication, a local headman said.
Report by Clayton Masekesa Headman William Chishakwe said scores of villagers were facing chronic ailments related to HIV and Aids but could not access anti-retroviral drugs (ARVs).
Most of them were also unable to raise the required clinic fees of US$2 for registry and US$1 for reviews.
"Because there is no medication at the nearest clinic (Zimunya Clinic), most patients are being referred to Mutare where they are required to buy the medication in pharmacies but the prices are beyond the reach of many," he said.
Chishakwe appealed to the government to reduce medical fees in the rural clinics and at the same time improve the availability of drugs including ARVs.
"I want the government to monitor happenings at rural health centres," said Chishakwe.
"It is surprising that children under the age of five and those who are over 60 are forced to pay while government policy is against that. If this is not solved as a matter of urgency, I can see more villagers dying. Yes, in some towns people are getting treatment but it is a different story here in rural areas where life is still unbearable."
The headman said the number of people dying from HIV and Aids-related illnesses was rising in his area and some of the affected were flocking to his homestead for assistance.
"I have got villagers who have succumbed to Aids and TB. The rate at which they are becoming ill is a great cause for concern," he said.
"There is nothing that I can do at the moment. I have referred them to the chief (Chief Zimunya)," he said.
Manicaland provincial medical director, Tapiwa Murambi blamed logistical challenges for ARV shortages.
"Generally, the supply of ARVs in the whole province is adequate. But in some areas where there are shortages, it might be as a result of the logistical problems on the part of the clinics. However, our outreach teams are on the ground and if there are any serious shortages, we will have the reports," he said.
Murambi said only district and mission health centres were charging fees, "but we have a category where patients on ART (anti-retroviral treatment) can access the medication for free".
Health and Child Welfare minister Henry Madzorera recently said the government was putting measures in place to cater for such patients.
Related Topics