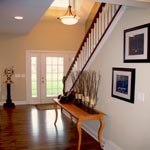 Last week we discussed the impact of our front door entrance on our visitors and the many ways in which we can achieve a fitting entrance to our homes.
Report by Helen Devmac
Today we are inside your hallway, that much underutilised space. Often regarded as just a passage, a means of getting from one room to another and also a dumping ground for all sorts of odds and ends, the kids school bags, shoes, toys and exercise equipment — sound familiar?
I have even seen bags of maize stored there, by one very proud home owner announcing to all who dared enter, just what a good harvest she had yielded from her little plot!
With a little thought, your entrance hall could be much more than that awkward space beyond the front door. It is the prelude to your home, promising much more than is taken in by a mere glance, in terms of elegance and style. It is the embodiment of all the rooms that lead of it and must therefore reflect the general tone and look of your home. It must always be neat and clutter-free creating a safe space for people to enter and leave your home. In reality, it is like a bus stop and can be a very busy area in the mornings with kids rushing off to school, scrambling for misplaced items.
So apart from elegance and style, we must look at this space in terms of functionality. It is the area where everybody lands several times a day and cupboard space in this area allows you to discreetly conceal shoes, school bags, swimming gear, books, toys etc. However, this is only possible where space and lighting are adequate, you do not want to create a cramped and poky hallway. Cupboards and shelving can be attractively fitted in light colours that can be complimentary to any décor scheme.
You may yet add to the functionality of your hallway by putting up attractive brass and antique hooks for friends and family to hang up their bags, coats and umbrellas.
Decorating your hallway Colour is going to be an important consideration, start by selecting a colour scheme for your walls, and think beyond the hallway. Remember, this is a prelude, whatever colour you choose must reflect the general style and tone of your house. Is it modern contemporary? Funky? Traditional or Imposing?
Do not be afraid of colour; choose colours that you like and are comfortable with and just look outside the window and take your inspiration from nature.
This is a particularly beautiful time of the year with everything in bloom, take your pick, from the striking bougainvillea to the rather sedate white and pinks of the bauhinia and the many shades of brown and green of our trees and grass.
A few tips The colour in your hallway could be darker than the rest of the walls in your house, a dark or chocolate brown could be used to great effect paling to lighter shades of brown beige ivory etc as you move into the lounge and other rooms.
The use of dark bold colours is equally effective in large and  small spaces. If your hallway is rather small do not despair, when one colour is used for walls and ceilings. it has the effect of creating one space with infinite dimensions, there are no borders marking where one colour begins and another ends.
Apart from the dark dramatic colours, look for colours that inspire feelings of peace and serenity, light leafy greens, shades of white and blue, and bring in the sunshine with shades of yellow. Without doubt different shades of white help by making your space look larger.
Next week we will look at flooring for the hallway and other items of furniture essential to creating a  stunning entrance hall.