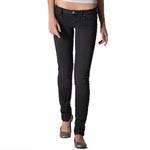 London — It is usually the norm that a schoolgirl would be reprimanded for her skirt being too short. But in this case, one pupil was sent home because her trousers were not flared enough and deemed far too tight.
Report by Mailonline
Teachers also made Lauren Entwistle learn in isolation at Swavesey Village College in Cambridgeshire, because the offending black school trousers did not have the correct "flarage".
Her mother Mandy Entwistle (37), said she was furious her daughter missed a day-and-a-half of lessons just because her trousers were the wrong style. She said the school had banned various styles of trousers because they were deemed fashionable, but she had decided the bootcut version that they ask pupils to wear looks untidy and can get caught in bikes.
Bizarrely, the school has now ordered Lauren new trousers, which they deem suitable, from the same website as the original ones.
Entwistle said: "I just do not understand how sending a child home from school because her trousers are too tight around the ankles is beneficial for anybody."