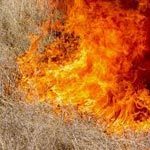 RAGING veldfires last week swept across farms in Karoi, destroying homesteads, pastures and killing animals.
Report by Moses Chibaya Some villagers lost granaries full of maize and livestock such as goats, pigs and chicken to the furious fires.
Household properties including television and radio sets, solar panels, ox-drawn carts and clothing were also destroyed.
One of the victims, Daniel Vurawa of Pombey farm, lost two huts and a tobacco barn.
"Two of my houses were destroyed and a tobacco barn that I was supposed to use to cure my tobacco was also gutted," he said.
"The good thing is that the house that I am using as a store room for inputs did not catch fire."
Another victim, Tawanda Sanjowo, said he fled for his life and witnessed the fire destroying his houses from a distance.
He said people could have died had the fire broke during the night.
"It was a very strong fire. It was moving very fast and I must say that we were lucky because it happened during the day. If it were at night, many people could have been killed," said Sanjowo.
"I think we need to punish anyone found causing veldfires."
Environment Africa country director, Barnabas Mawire, expressed concern over increased cases of veldfires.
"We are concerned with veldfires. This year's fires have already destroyed more hectares than last year," said Mawire.
"There are economic aspects that we need to consider, for example, destruction of grazing lands.
"The issue is exacerbated by the fact that we have a drought in Matabeleland where there is shortage of pastures, so we must protect the little that we have."
He encouraged people to report to police culprits that cause veldfires.
The Forest Act makes it mandatory to put in place standard fireguards around farms as pre-suppression measures which prevent fires form spreading.
It requires that all people and responsible authorities put out fires, regardless of who would have caused them.
Mawire said they had carried out awareness campaigns with Environment Management Authority (EMA), in an effort to reduce incidences of veldfires.
"We are organising village-based fire fighting committees. We train them on how to use fire fighting equipment and monitoring of fire," he said.
The campaigns have already been carried out in Binga, Nyaminyami/Kariba, Zambezi Valley, Lupane, Hwedza, Hurungwe, Mbire, Guruve, Chimanimani and Mutasa.