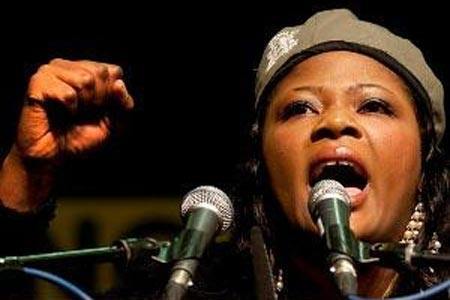 POLITICAL activist Tendai Wenyika has scooped one of the prestigious Junior Chamber International's Ten Outstanding Young Persons of the World (JCI TOYP) awards.
Report by Our Staff The awards ceremony would be held at the JCI World Congress in Taiwan in November. The 27-year-old was named a recipient in the category of political, legal and or governmental affairs.
"Tendai Concilia Wenyika shows her spirit of active citizenship everyday through her advocacy work in Zimbabwe and across Africa," the JCI Zimbabwe chapter said in a statement last week. "Starting in her country and then expanding to her continent, Wenyika served on the Zimbabwe Youth Council and quickly became involved with the Pan African Youth Union (PYU)."
She is the deputy secretary-general of the PYU. Wenyika became the first woman in Zimbabwe at any university to be elected as president of the Students Representative Committee when she landed the post at Midlands State University in 2004.
Then, she was studying towards a Media and Society Studies degree. Her role as deputy secretary-general of the PYU involves working on various youth task forces of the African Union where she oversees the entire southern African region.
Wenyika also implements programmes that encourage the active participation of young people in the economic, political and social decisions of their countries.
She took part in several grassroots peace missions in Sudan, Cote d'Ivoire, Somalia, Mali, Libya and other war-torn countries, inspiring youths to fight for their voice to be heard.
JCI-Zimbabwe said Wenyika played an instrumental role in starting the Zimbabwe Young Women's Network and the Zimbabwe Entrepreneurs Youth Association.
The JCI TOYP is an annual international programme that honours 10 young people between the ages of 18 and 40, chosen from a variety of fields for inspiring young people across the world. JCI-Zimbabwe national president, Spicer Munjeri, said Zimbabwe shone in this year's competition, with three other Zimbabweans, including journalist Brian Hungwe, making it into the top 20.
Hungwe and Dalumuzi Mhlanga, a 23-year-old Harvard University student, were nominated in the Humanitarian and or Voluntary Leadership category. Businessman-cum-musician Tawanda Mutyebere was nominated for Personal Improvement and or Accomplishment category.
Previous Zimbabwean awardees include businessman Strive Masiyiwa, Environment Africa founder Charlene Hewitt and Girl Child Network Zimbabwe founder and director, Betty Makoni.