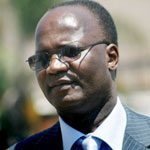 ZANU PF has started preparing for its primary elections amid reports that several party bigwigs, among them cabinet ministers, will be forced to retire ahead of polls that may be held in March next year.
Report by Patrice Makova
Sources said the party was planning to hold primary elections soon after the referendum on a new constitution scheduled for November after this month's Copac Second All-Stakeholders' Conference.
A Politburo member said while Zanu PF had endorsed 88-year-old Mugabe as its presidential candidate, a proposal had been made, which could see many of the old and those who are sick being retired. This would make way for new and energetic candidates to contest the elections, said the official.
"The party strategists have already put forward the proposal and it is now entirely up to the President (Mugabe) to endorse this idea," said the senior Zanu PF official.
The strategists include the securocrats seconded to the party to spearhead its election campaign and re-organisation. A few months ago, the securocrats succeeded in having the divisive District Coordinating Committees (DCCs) dissolved in the wake of serious internal squabbles.
The source said, under the proposal, most of the old and ailing party members would not be allowed to contest the party primary elections, as there was a view that this could prove costly to Zanu PF, come national polls.
"The retired party gurus will be given new responsibilities within the party, not only as a way to appease them, but to also ensure that they will not starve, as they will continue earning some income," said the senior party official.
However, the official said Vice-President John Nkomo, who is not well would not be affected if the decision to retire the old party bigwigs was adopted.
But the likes of Lands and Rural Resettlement minister, Hebert Murerwa, who has been in and out of hospital for the past two years, were unlikely to be spared. The late Higher and Tertiary Education minister, Stan Mudenge, who collapsed and died last week, was also tipped for "retirement".
Another official said although the older members of the party could be swept aside, it would not be a "walk over" for the party's "Young Turks", as some of them were suspected to be working with fellow "Young Turks" from the MDC-T.
"There are fears that our rivals are going to sponsor some of our 'young Turks' so that they win the party primary elections, but go on to lose parliamentary elections," said the official. "They are being watched and some of them may also fall by the wayside."
Another senior Zanu PF and government official said when Mugabe returned from the recently held United Nations General Assembly in New York, he was widely expected to make a mini-cabinet reshuffle.
"Zanu PF is weighing everything possible to strengthen the party ahead of elections and that includes filling vacant posts," said the official.
He said former information and publicity minister, Jonathan Moyo, had been tipped to take over his previous position. The current holder, Webster Shamu, who is Zanu PF's national commissar, was expected to have been moved to the Organ on National Healing and Reconciliation to enable him to have more time to re-organise and campaign for the party ahead of elections.
Another vacancy has since fallen since the death of Mudenge.
Zanu PF spokesperson, Rugare Gumbo refused to comment saying the party was currently in mourning following the death of Mudenge.
The High Court last week agreed to Mugabe's application seeking a postponement of three House of Assembly by-elections in Matabeleland. He argued that harmonised polls would be held the last week of March 2013.
Related Topics