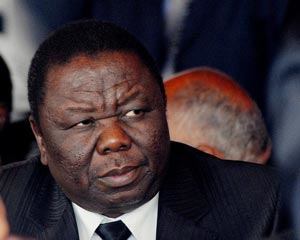 PRIME Minister Morgan Tsvangirai's recent promise to grant a blanket amnesty to service chiefs could dent the party's credibility and cost him valuable votes in the forthcoming elections, political analysts have warned.
 Report byCaiphas Chimhete
The MDC-T leader last week said he was prepared to grant a blanket amnesty to services chiefs if he wins next year's elections, to ensure a peaceful transition of power  in the country.
But this contradicts his previous statements, that all those that committed crimes, including violence and politically-motivated murders, would face justice.
In October last year, Tsvangirai told his supporters in Gutu at the memorial service of the late Public Service minister, Professor Eliphas Mukonoweshuro that he would compensate victims of political violence and make the perpetrators accountable for their deeds.
Analysts said Tsvangirai's indecisiveness could anger victims of political violence and his supporters, especially those whose relatives were murdered during Gukurahundi and in the run-up to the June 2008 elections.
Some of the service chiefs are linked to rape and murder of an estimated 20 000 civilians in Matabeleland and Midlands during the Gukurahundi era in the 1980s.
Only four years ago, security chiefs were the force behind President Robert Mugabe's holding on to power after the violent 2008 elections, during which at least 200 MDC-T activists were reportedly killed.
Bulawayo agenda director, Thabani Nyoni expressed shock that Tsvangirai wanted to give a blanket amnesty to service chiefs. "We are very much surprised by the vacillation by the Prime Minister," said Nyoni.
"Our position is that everyone should be accountable for their actions. Tsvangirai should know that he is not the only one who should decide the future of this country."
Nyoni believes Tsvangirai's statement could cost him votes and the credibility of his party in the eyes of relatives and victims of political violence.
Relatives of people who died during the Gukurahundi era and of those killed during any other time would have to reconsider if it was worthwhile to support him, he said.
"This sounds like an abandonment and people will start to consider whether it is worth it," he said. "People will see him as one of those leaders who will shake hands (when he wins elections) with his rivals, as if nothing had happened before."
Analysts said what was most shocking was that Tsvangirai promised to pardon perpetrators of political violence a few days after touring Masvingo, where he met with victims who gave chilling accounts of how they were tortured by people they knew very well.
Some of the victims have deformed faces while others lost limbs. But their tormentors, who are walking scot-free, continue to chide them. 'Tsvangirai trying to curry favour with generals'
University of Zimbabwe political scientist Shakespeare Hamauswa said Tsvangirai was trying to win the hearts of the generals because they are a real threat to him ascending to power if he wins the next elections.
He said the security chiefs were determined to protect the wealth they accumulated over the years and avoid possible prosecution in future.
"You can't threaten the generals who have guns, they will not allow you to rule," said Hamauswa. "But like Lenin [Soviet Union Founder] once said 'Promises are like pie crusts, made to be broken'."
He said Tsvangirai's statement could be an attempt to manipulate the generals into thinking they would be safe in the event that the MDC-T wins elections and then prosecute them later.
The Human Rights Commission Bill, which was signed by President Robert Mugabe recently, provides for investigations for past atrocities while the draft constitution seeks to establish a Truth and Reconciliation Commission to address previous cases.
However, the bill only allows for the investigation of cases of politically-motivated violence starting from 2009, effectively burying atrocities committed during Gukurahundi and in 2008, when most of Tsvangirai's supporters were butchered in cold-blood.
"The PM was simply saying the MDC will not waste time on retribution once the party gets into power," said MDC-T spokesperson Douglas Mwonzora. "The MDC will spend a lot of time on repairing the lives damaged by Zanu PF militias, including some members of the security services." 
Related Topics