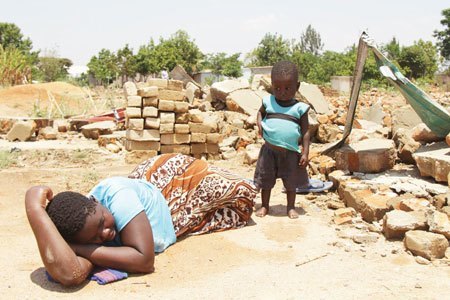 ABRAHAM Mapuranga will always rue the day he decided to spend his retrenchment package on a residential stand in the sprawling suburb of Epworth.
Report by Our Staff
After spending an estimated US$10 000 on building his house, Mapuranga is one of the scores of people now living in the open following the demolition of their properties by a local company, which claims ownership of the land.
The 34-year-old father of two said he bought the stand for US$1 000 from a Zanu PF official last year before building a modern nine-roomed house, which left his neighbours green with envy.
"I spent US$9 000 in constructing the nine-roomed house," said a devastated Mapuranga.
In addition, he drilled a borehole, installed solar panels and painted the house.
His former neighbours said they used to call his house kusabhabha (mansion) because it stood out from its poor surroundings.
"Now I live under the tree and get drenched by the rain," he said. "I used to park my three cars in my yard for free but now I have to pay US$1 for each car at a local car park."
Mapuranga said he would not be able to send back his daughter to boarding school next year following the demolition of his house. "I was paying US$500 for my daughter who is at a boarding school, but she will now have to come back home as I do not have any idea on how I will sustain my family after this big loss," he said.
When Standardcommunity visited the area last week, several residents complained of hunger as their foodstuffs were destroyed as bulldozers crushed their houses. Mothers, huddled their babies with  left-overs of their rain-drenched properties by their side, showing signs of desperation as they had nowhere to go.
Schoolchildren milled around the rubble from their former homes, unable to go to school because they had neither clothes nor food. The demolitions, which affected 200 families, were carried out by Sunway City, a subsidiary of the Industrial Development Corporation of Zimbabwe (IDCZ).
The company got a High Court order indicating the residents were unlawfully settled on land reserved for light industries. Epworth Residents Development Association (ERDA) last week said it had engaged a lawyer to ensure compensation for the affected residents.
"Both national and international laws do not allow destruction of people's houses without providing them with an alternative," ERDA coordinator Mariot Nyauyanga said.  "We have engaged a lawyer with the aim of ensuring that Sunway compensates the victims."
The Minister of Local Government, Urban and Rural Development, Ignatius Chombo has set up a team to go around Harare addressing the issues of stands that have become emotive.
The demolition came a few days after the country commemorated the World Habitat Day celebrated on October 1 to reflect on the state of cities and the right to adequate shelter.
In 2005, the government embarked on Operation Murambatsvina, which according to United Nations estimates, affected at least 2,4 million people.
Seven years after the operation, most of the victims are still homeless while others stay in sub-standard accommodation.
Zanu PF still to assist victims
Zanu PF Harare provincial chairman Amos Midzi last week led a delegation to Epworth but could not deliver a tangible solution. Midzi, who described the demolitions as "inhumane and barbaric", promised to assist the victims.
He said he had asked the Epworth council to give details of their boundaries and urged victims to present their names and identification numbers to the local Zanu PF leadership.
"No one has the right to sell this land to anyone. The local leadership must not abuse the name of President (Robert) Mugabe to sell this land," said Midzi.
"I am told there are people who are abusing the name of the President and the party coming here putting on Zanu PF regalia and demanding money for accessing stands for people," he said.
Residents fear an outbreak of diseases
There are fears of an outbreak of diseases such as typhoid and cholera, especially during this rainy season. Most of the victims of demolitions now relieve themselves in the bush, raising chances of diseases outbreak.
Some toilets were opened up during the demolition exercise, raising risks of human waste inflows into the wells from which the victims continue to fetch water.
"We used to have a toilet in our yard but now we share one toilet with the rest of the victims," 29-year-old Yulita Kambeni said.
"Some just squat in the open and this may soon bring us cholera and I fear for my little baby and young children."