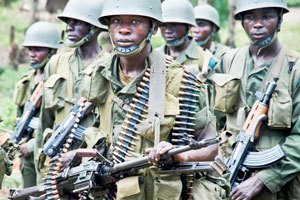 UNITED NATIONS — Rwanda won a seat on the UN Security Council last week, despite accusations by a UN panel that Rwanda's defense minister commands a rebellion in the Democratic Republic of Congo, and warned countries against cutting off aid over the charges.
Rwanda was unopposed in its bid for the African seat on the council that South Africa will vacate at the end of December, but still needed approval from two-thirds of the UN General Assembly members present to secure the two-year term.
It won 148 votes in the 193-nation assembly.
Argentina was also elected to the council unopposed, winning 182 votes. Australia won a seat with 140 votes, Luxembourg with 131 votes and South Korea with 149. Cambodia, Bhutan and Finland failed to secure two-year seats on the council.
There are five veto-holding permanent members of the council — the United States, Britain, France, Russia and China — and 10 temporary members without veto power. last week's election was for the term from January 1 2013, to December 31 2014.
Rwanda's government said it would work with all members of the council to ensure "it is responsive and reflective of the views and aspirations of the developing world."
"Rwanda's troubling and tragic past allows it to bring to the UNSC a unique perspective on matters of war and peace," it posted on a Twitter account created for its Security Council term (@RwandaUNSC). Before the vote, the Congolese delegation told the General Assembly that it objected to Rwanda joining the Security Council, accusing its neighbour of harbouring "war criminals operating in the eastern part of the DRC and who are being sought by international justice".
A confidential UN report cast a shadow over Rwanda's election to the United Nations' 15-member power centre — which has the ability to impose sanctions and authorise military interventions.
The Security Council's "Group of Experts" said Rwanda and Uganda —  despite their strong denials — continued to support M23 rebels in their six-month fight against Congolese government troops in the eastern parts of the country. — Reuters