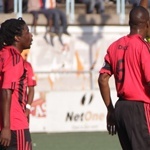 FC Platinum . . . (1) 1 Chicken Inn . . .  (0) 1
Striker Thomas Chimenya rose from the bench to grab the priceless goal that helped a 10-man Chicken Inn salvage a draw against FC Platinum at Mandava yesterday. Report By Ephraim Shoko
The "Game Cocks" finished the match a man down after skipper Herbert Dick was sent off for an early shower for a second bookable offence in the 35th minute.
The draw saw Chicken Inn sliding to position four after Monomotapa collected three points after beating Black Mambas 3-2 to move to third position at 47 points.
The platinum miners were the first to hit the target through Charles Sibanda, who headed home an Ali Sadiki corner-kick in the 28th minute.  From the minute they scored, FC Platinum dominated the entire remaining first half with Sibanda frustrating his opponents in the midfield.
Chicken Inn coach Adam Ndlovu then introduced Chimenya a minute after the breather for the ineffective Tendai Mukambi before bringing in the duo of Evans Chikwaikwai and Tendai Ndoro for Danny Phiri and Marshal Marime in the 58th minute.
Chimenya took advantage of a defence slip-up before out-muscling Zephaniah Ngodzo to send home a cheeky chip that beat outdrawn Tafadzwa Dube in goals for FC Platinum.
Related Topics