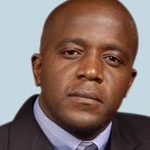 PATTERSON Timba was booted out of the Africa First ReNaissance Corporation (Afre) board, alongside two other directors at a meeting of shareholders on Friday. REPORT BY NDAMU SANDU
The booting out of Timba, Norman Nyazema and Daud Dube from the board followed recommendation from the insurance regulator, Insurance and Pensions Commission (Ipec).
Ipec had recommended the regularisation of boards of Afre and its subsidiaries and ordered that certain members of the board of Afre and its subsidiaries relinquish their posts.
The three had been told to resign, but would not take the advice, forcing Afre to remove directors before the expiry of their term of office, in line with the Article 114 of the company's Articles of Association.
In an unanimous decision, 90% voted for Timba's ouster from the board.
Dube was removed by 91,25% of the votes while Nyazema got a paltry 3,75% sealing his fate.
Timba had been booted out as executive chairman of Afre last year after the contagion effect of problems at his then ReNaissance Merchant Bank spread to the financial services group.
He was then accused of abusing policyholders' funds.
Afre shareholders also voted overwhelmingly for the recapitalisation of the group through a renounceable rights offer to raise US$8,6 million.
The recapitalisation would be carried out through issuing three new shares to four existing shares at a price of US$0,053.
The money raised via the rights offer would be used to recapitalise Afre subsidiaries FMRE Life&Health (US$1,5 million), FMRE Property &Casualty Zimbabwe (US$1,6 million), FMRE Property&Casualty Botswana (US$2 million) and TristarInsurance (US$1,650 million).
It would also be used to settle US$1,330 million owed to policyholders, while the expenses of the rights offer would be US$550 000.
The National Social Security Authority would underwrite the transaction.
Related Topics