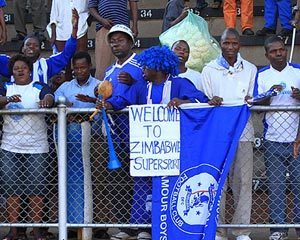 MODEST Premiership side Monomotapa will this afternoon clash with defending champions Dynamos in a game which could decide the league's destiny at Rufaro.
BY ALBERT MARUFU
With three games to go, only two points separate the traditional giants Dynamos and Highlanders at the top. DeMbare rule the roost at the summit with 62 points.
Dynamos have also scored more goals than their rivals in the event both teams end the season with the same number of points.
Bosso have a relatively easier assignment in the Midlands capital against lowly-placed Hardbody at Ascot Stadium this afternoon.
However, it is the Dynamos-Monomotapa tie that has nearly everyone's attention and DeMbare could not have wished for better opponents at this stage of the season, as they come up against one of only three teams that have defeated them.
In the first half of the season, a Tawanda Nyamandwe late strike helped the third-placed side edge Dynamos 1-0.
Twice, the 2008 champions have proved too powerful for Highlanders after heroic exploits in halting Bosso's 23-match unbeaten run in spectacular fashion with Osborne Mukuradare's hat-trick.
They followed this up with a 3-2 victory which dumped the Bulawayo giants out of the Mbada Diamonds Cup tournament.
Monomotapa coach Biggie Zuze, himself a former Dynamos son, expressed the 2008 champions' wish to maintain their finish in the top three.
"Our target this year is to finish on position three, but Chicken Inn are closing in on us. We know what to expect in Sunday's game.Dynamos are a big club and have a lot of supporters who can be intimidating sometimes."
"We just do not have to concede an early goal as that would unsettle us. The players have since recovered from the shock 1-0 loss at the hands of Gunners in a mid-week game," said Zuze.
Zuze's spirits have been buoyed by the return of the injured central defender Morgan Mungombe. Mungombe missed the last two games after sustaining an ankle injury in the Mbada Diamonds Cup match against Highlanders.
It is the pint-sized midfielder Ronald "Rooney" Chitiyo, who ironically Dynamos fans praised for a job well done after overseeing the destruction of Highlanders, who might pose a threat to the Harare giants. Mukuradare is also another threat.
The absence of injured Dynamos hard men Devon Chafa and Milton Makopa could benefit the highly-mobile Chitiyo.
As has become the norm, Dynamos will look up to Denver Mukamba, Cliff Sekete, Tawanda Muparati and Farai Mupasiri.
In Gweru Highlanders coach Kevin Kaindu will welcome playmaker Peter "Rio" Moyo and the club's top goalscorer Milton Ncube.
"We do not have any injuries besides Bevan Chikaka. The game is going to be tough as Hardbody are fighting relegation," said Kaindu.
Related Topics