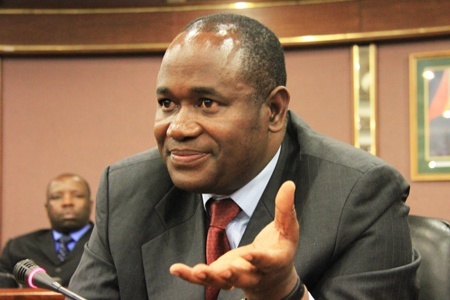 RESERVE Bank of Zimbabwe (RBZ) governor Gideon Gono has warned that liquidity challenges will persist as Zimbabweans continue facing stringent conditions to access lines of credit.
REPORT BY OUR STAFF
Gono told stakeholders attending the Zimbabwe Independent Banks and Banking Survey meeting last week that out of the offshore facilities worth US$2 billion approved by the External Loans and Coordinating Committee (ELCC), only US$899 million has been drawn down since the beginning of the year.
". . . against such low utilisation levels of 42% realised this year to date, the country will continue to face persistent liquidity challenges," Gono said.
Gono said notable issues that have affected utilisation levels include facilitation fees, deposit requirements and various legal aspects, which sometimes take up to six months to be fulfilled.
Zimbabwe is facing liquidity challenges and has failed to get lines of credit from multilateral financial institutions.
The situation has been complicated by the inability of the central bank to print money under the multi-currency environment.
Gono said under the auspices of the multiple currency system, major sources of liquidity and broad money for the Zimbabwean economy, comprised export earning, diaspora remittances, offshore lines of credit, foreign direct investment and portfolio inflows.
"To the extent that the Reserve Bank of Zimbabwe has not been issuing currency under the multiple currency system, there is need to ensure that these streams of foreign currency inflows continue to meaningfully contribute to liquidity levels in the economy," Gono said.
Under the multi-currency environment, RBZ is a bystander, as it cannot intervene in a crisis.
Central banks in Europe have been able to intervene in the euro crisis by using or adjusting their monetary policies through introducing austerity measures as and when needed.
An austerity measure is an official action taken by governments through central banks in order to reduce the amount of money that it spends or the amount that people spend.
This ultimately has an effect on the liquidity position of a country's financial markets.
RBZ rendered ineffective Without the ability to control a country's monetary policy and implement it, RBZ is ineffective in introducing austerity measures when needed.
"Determining a monetary policy and implementing it, is at the core of any central bank and for as long as we don't have a local currency, RBZ will always have limited impact in the smooth operations of financial markets in Zimbabwe," an investment banker said.
"The best RBZ can do now is being a regulator of our local financial markets, but a regulator without ability to introduce relevant instruments to ensure smooth operations of our financial markets, in case they are needed, is weak. And only through a monetary policy are you able to intervene effectively."