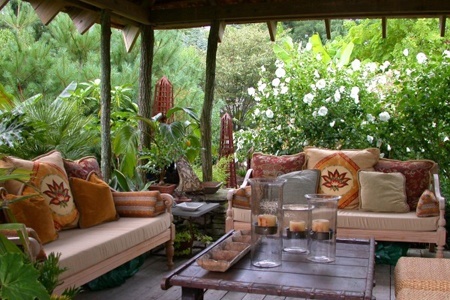 Another dilemma, is it a porch or patio?  And whatever happened to the good old stoep or veranda? When I was growing up we had stoeps and verandas,  I don't quite  know when  porches  and patios came along.   
Report by Helen Devmac
I really think porch is a fancy word for stoep or veranda. Do you remember the stoeps and verandas of yesteryear?
You know the veranda or stoep that sort of  wound round the house, which ever room you were in you could step out  on to  a veranda or stoep, with its immaculate floors, polished to a high gloss with red stoep polish.
They even manufactured a stoep polish! The veranda also was the resting place for old  and tired lounge suites  and chairs with sagging springs.
It had a beauty of its own and was a great place for friends and family to gather.
Guests were  entertained to sundowners on any evening,   courting couples would sit there gazing into the future while old folks  sat on the stoep  dreaming of what might have been, the stoep was  the  place for all to relax and dream.
I think like all things, the stoep or veranda has metamorphosed, and we now have patios and porches instead.
But, with a slight difference in that while verandas and stoeps were almost extensions  of the main house,   porches and patios  in particular are not necessarily located  at  your doorstep, they can be anywhere on your property. But certain features of the stoep and veranda remain.
A patio is an outside living room or dining room and can be situated at the back or front of the house, it can flow out from a lounge dining room or kitchen  or can  be completely detached from the house as an independent entertainment area.
It is still a great place for friends and family to gather, and a place for quiet moments too.
If you are going to transform your current veranda into a patio or create one from scratch, the first consideration has to be  the use for which you intend the space to  be used,  will it be a lounging area,  a dining place, will you be cooking there?
If entertaining, what sort  of gathering  do you intend to have and the number of people likely to congregate there at any given time? This will give you an idea of the size.
You also have to consider the location, you may well be advised to go round your property and select the most appropriate location.
Do you want it to flow from your current lounge or dining room or kitchen, or should it be located near the pool area.
Considerations when decorating a patio Your choice of furniture will be influenced by the size of the patio, furniture must be scaled down to fit the available space, the patio must not be cramped and should have enough room for your guests to circulate freely.
Furniture must be solid and be able to withstand the outdoors, wicker metal and hardwoods all do well. Cushions should be made of weather proofed materials with UV-protection and be resistant to mildew and mould.
Depending on the use of your patio, you could have lounge dining and kitchen furniture in this space or all three including appliances, all attractively set out.
Good lighting and security If you are going to entertain in the evenings, you will need good overhead lighting as well as floor lighting so your guests do not put a foot wrong.
Where there are steps, use floor lights to direct your guests.Consider security as well and see how the use of solar lighting and sensors can help by keeping away unwanted guests. Lighting features can be quite dramatic, sconces in ethnic designs are great for an outdoor entertaining area.
Plants Get some advice from your local nursery regarding plants that are decorative and ideal for the outdoors. Go for colour and texture and use boldly decorated pots in various shapes and sizes , all in keeping with the general style of your patio.
Bar Since you will be entertaining guests, it's a good idea to invest in a good solid cabinet that could be converted into a bar cabinet for all your alcoholic beverages, team this up with a bar fridge and a wine cooler, and you will be well set for the festive season.
Ensure that all liquor is kept under lock and key and does not get into the hands of minors.
A few ideas on how to design a cool porch Decorating your porch is a brilliant way to extend your home or apartment. Bringing inside — out is a great way to blend the two lives of your home together.
Porches are great to decorate and easy to create a warm space that you can enjoy for hours. Somewhere to entertain, read or meditate.
Storage Porch storage means different things to different people. For some it means storing tennis or gym shoes in an old chest or in a pile ready for next time. But I think you should use porch storage for things like cushions, cutlery, rugs and other bits to make life a little easier if you plan on using your porch for more a mud room.
Security and privacy The last thing you want to do is spend time and money selecting gorgeous cushions, rugs and pot plant holders to find them missing in action. Installing light sensors can help but left out alone — things will go astray unless you are happy to take things in and out as you need them.
If you have security issues, buy heavy items that are unlikely to get moved or stolen. Large, heavy pots are difficult to move. So is a large solid dining table. Don't forget privacy either! Use shutters, curtains or garden decor to keep your privacy intact.— decoratedlife.com
Related Topics