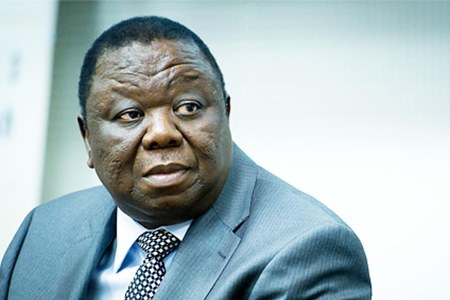 PRIME Minister Morgan Tsvangirai has said his deputy, Thokozani Khupe would face party disciplinary action, the latest indication of a major fallout between the two. BY NQABA MATSHAZI AND CAIPHAS CHIMHETE
The move to haul Khupe, accused of instigating violence in Bulawayo ahead of the MDC-T congress 18 months ago, over the coals has raised eyebrows, with some party members questioning the timing of the action.
In an exclusive interview with our sister paper, the Zimbabwe Independent, Tsvangirai confirmed that his deputy would appear before the disciplinary committee.
"Yes, she [Khupe] will appear before the national disciplinary committee," he said.
The committee will be chaired by the party's chairman, Love-more Moyo, who is a junior to Khupe in terms of the party hierarchy.
Khupe, however, on Friday said she was not aware that she was supposed to face disciplinary measures for allegedly instigating political violence.
She insisted that she was clean and those who were trying to rubbish her would not succeed.
"This is absolutely nonsense. Do I look like a violent person?" said Khupe.
"I was not in Bulawayo during that time."
The Deputy Prime Minister said if there were people in the party that were out to destroy her, they would not succeed as she was a people's person.
She said with the power of God, those who were bent on tarnishing her image would fail as she was a true believer.
"I am begging them to leave me alone. I want you to write this," said Khupe.
"I pray and pray. I am one blessed person. I always tell people that I am a cancer survivor."
Asked if she was healed, Khupe said: "Yes, I'm healed. You know I had an operation. I am totally healed, so those people are wasting their time. They will fight on and on, but they will not succeed."
Sources revealed that Tsvangirai and Khupe could have fallen out over the Premier's botched affair with Locardia Karimatsenga.
There are allegations in MDC-T circles that Khupe teamed up with women's assembly boss, Theresa Makone and supported Karimatsenga in a bid to sue the Premier for maintenance.
Already, Makone's husband, Ian, has fallen out with Tsvangirai and has been booted out of his office as the Premier's chief of staff.
"It looks like Khupe and Makone took sides with Locardia and the fallout since the marriage is quite evident, although we didn't know how far it went," a source said.
'PM's marriage saga a personal issue'
Khupe dismissed allegations that she and Makone supported Karimatsenga in her bid to claim maintenance from Tsvangirai.
"I don't want to be dragged into other people's affairs. They must not drag me into this issue," she said. "I put all these (allegations) before God."
Khupe said Tsvangirai had the right to choose his own wife as it was a personal matter. "If people are saying I influenced Locardia, who instigated Nosipho? Is it me again? People must leave me out of these issues," she said.
Nosipho Shilubane is the South African woman who tried to have Tsvangirai's nuptials with Macheka stopped at the last minute.
The courts dismissed her application. Khupe, who is also president of the Global Women Network Africa, said she would not be distracted from her mission to campaign for the party ahead of next year's elections.
"I am only interested in serving the people of Zimbabwe to make sure they have jobs, drugs and education," she said, adding that some people were jealous of her popularity.
Efforts to get an authoritative comment from the MDC-T drew a blank, as the officials said they were unaware of the disciplinary action.
"I am not aware of it [disciplinary action]," party spokesman, Douglas Mwonzora said.
"I have not seen the list of the people who are due to appear."
Mwonzora referred all questions to organising secretary, Nelson Chamisa, who laughed off reports that Khupe faced disciplinary action.
He however directed questions to Tsvangirai himself. Efforts to get a comment from Makone were in vain as her number was not available for most of last week.
Related Topics