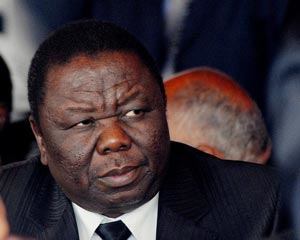 If anything, Prime Minister Morgan Tsvangirai last week appeared as a man on the ropes, as his future crept under an unlikely spotlight.
Report by Nqaba Matshazi
Seemingly comfortable in his position as the indisputable leader of his party, Tsvangirai set the cat among the pigeons when he told an MDC-T meeting that he would step down if he lost the next election.
Tsvangirai was made to beat a hasty retreat and claim that his statements were a misconstrued joke, but all of a sudden, his once invincible status seemed to be under contestation.
There are reports that there is a project to unseat the MDC-T leader at the next elective congress, reigniting rumours of a party that is divided.
Tsvangirai confirmed reports of the presence of a plot within the party at a rally in Lupane about 10 days ago, threatening to crush the rebellion.
"One of the major criticisms of [President Robert] Mugabe's leadership, including from the MDC, was that he has stayed too long in power, something that Tsvangirai must not lose sight of, especially riding on the democracy platform," Dewa Mavhinga, a political analyst said.
"By 2016, Tsvangirai would have been at the helm of the MDC for some 17 years, giving legitimacy to leadership renewal discussions within and outside of the MDC."
Mavhinga said discussions on Tsvangirai's future should not be treated as conspiracy theories, but rather should be seen as the party's way of seeking renewal.
"If the MDC is to establish itself as a party different from Zanu PF, then it must ensure timely and smooth leadership renewal in accordance with its internal democratic rules, as well as general national expectations," he continued.
But Trevor Maisiri, a senior analyst for southern Africa at the International Crisis Group, reckons that while Tsvangirai may quit after the next poll, he was the unifying force in MDC-T.
"Apparently, Tsvangirai stands as the brand that drives the party. His personal brand is stronger than the brand of the party as an institution," he said, arguing that this was something synonymous with the traditionalist approach to politics in Africa. "Currently he is the mortar that holds the party together and he attracts a lot of respect within the party, which is, however, not the case with many of the 'lieutenants' around him.
"His departure as party president will lead to some instant factional fighting, as well as incoherence around leadership issues. However, the MDC-T must begin to build the brand of the party as an institutional entity if the party is to survive in the post-Tsvangirai era."
MDC-T members demand transparency
Confusion over selection of candidates ahead of the next elections has also rocked Tsvangirai's boat, with some MDC-T members rebelling openly against what they term an undemocratic exercise.
The party says sitting legislators and councillors will go through an endorsement process and if they fail to garner a two thirds majority, they will then undergo primary elections.
But some party members are demanding primary elections, claiming the endorsement process was meant to protect incumbent legislators and councillors.
Only recently, party members in Bulawayo are reported to have printed flyers protesting the electoral system.
"We do not want anyone choosing leaders for us. Tsvangirai, stop forcing us to accept leaders that are chosen by you, that we do not want," read the flyers. "We want primary elections, that's all." This is probably the biggest rebellion to the MDC-T leader since the split of the united MDC in 2005.
But like all revolts before, Tsvangirai will hope to crush it and head to next year's elections with a strong and united party, to face his long-time rival Mugabe. Unlike Mugabe, Tsvangirai will hope that this election is not his swan song.
Related Topics