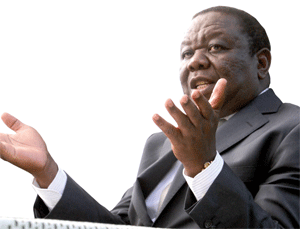 BULAWAYO — MDC-T leader, Morgan Tsvangirai has warned senior party officials engaged in an alleged conspiracy to oust him in a plot code-named "Project 2016".
By Nqobani Ndlovu
Insiders say Tsvangirai's leadership credentials were being questioned by senior party officials angling for his post during the next congress set for 2016.
They are reportedly working with provincial executives to rally support in provinces since they are in constant touch with the grassroots structures.
In Matabeleland, some provincial executives said to be part of the 2016 plot, are reportedly working with Zanu-PF and the Welshman Ncube-led MDC.
If the plot succeeds, insiders say, this will result in the re-unification of the two MDCs.
Tsvangirai last week said he knew of the 2016 plot during an MDC-T provincial council meeting held in Lupane, Matabeleland North province.
The meeting was held at Mpofu Primary School.
"There is a conspiracy, a conspiracy to remove Tsvangirai in 2016. It is an act of stupidity to be talking about 2016 now. "We will remove you now before 2016," Tsvangirai told the provincial council meeting.
"This is a diversionary tactic. We have to be a team . . . let's finish the job that we started [remove Mugabe and Zanu-PF]."
Tsvangirai advised senior party officials angling for his post to be patient, saying, "Your chance will come."