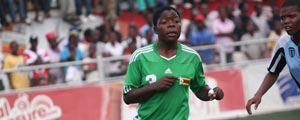 She is aptly nicknamed "Madzimai" because of her affiliation to the Johanne Masowe sect in the heart of Norton.
Report By RANGANAI DZOTIZEI
On the football pitch, she is the most dangerous assassin for Black Rhinos in the women's game.
Her name is Rutendo Makore.
Born in a family of three girls 20 years ago, Makore started her journey as a netballer at St Ericks Secondary School in Norton and all was to change in 2005 when she met one Progress Mapeza.
"I started playing soccer for Norton Queens in 2005 when I met Mapeza who was already playing football, who took me to Cyclone Stars. That's how I started playing football to the extent of representing Zimbabwe at Zone Six Games in South Africa later that year," she said.
She was to stay at Cyclone for four years until a normal visit to a friend transformed into an opportunity that changed her fortunes.
"I visited a friend when I heard that recruitments were taking place at Black Rhinos. Contrary to many reports, it wasn't planned but I saw an opportunity and I took it. That is how I ended up here at Black Rhinos," the affable Makore said.
That shock move was the turning point in her footballing career as she worked herself into the first team at Rhinos in a team laden with proven goal-scorers like Rufaro Machingura and Kudakwashe Bhasopo.
In her debut season at Rhinos, she was every defender's worst nightmare, banging 33 goals, nine ahead of Rudo Neshamba and 10 better than Erina Jeke.
What makes her achievements so sweet is how she beat two players who always get the nod ahead of her in national team colours to the Golden Boot — Neshamba and Jeke.
"Credit goes to my teammates for, without their assists, I wouldn't have scored so much. I am happy to be the top goal scorer. It is a good feeling."
Those goals, to a greater extent, came thanks to the training regime at Rhinos, where Makore lost considerable weight and it has since paid dividends.
"I really worked hard to trim that body. I was fat at the beginning and the two hours we ran and did drills did the trick," she chuckled.
The bustling striker says she is not thinking about moving abroad anytime soon as she wants to concentrate on establishing herself on the local scene.
After such a superb season, Makore is confident she has done enough to convince the national coaches she can now be trusted with leading the front line for the Mighty Warriors.
"The effort needed at club and country is different. It depends on the coaches' plans and I will just make sure I work extra hard to earn my place," she said.
She admires South Africa's Amanda Dlamini and Portia Modise while her local heroine happens to be former diminutive midfielder Sithethelelwe "Kwinji 15" Sibanda.
However, it is her mother who inspires Makore the most as she has supported her every move.
Makore urged young girls to be disciplined.
"Most girls start drinking alcohol and do all sorts of mischief when they get into the limelight. That is not professional. Discipline and having a good mentality are important in this field," she concluded.