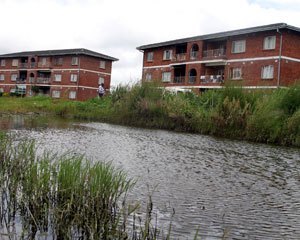 SOME residents of Harare's Tynwald North suburb are up in arms against a property developer whom they accuse of failing to install a proper drainage system in their area despite having paid him.
BY JENNIFER DUBE
Residents accused Samuel Mudavanhu who runs Develop IT Zimbabwe of doing a shoddy job.
The residents said roads to their houses and flats were not passable due to poor drainage and they were also losing a lot of money as they have to park their vehicles away from their homes, where they pay guards US$5 a vehicle per night.
"As you can see, the roads are pools of water even today when it is not raining," one resident said on Thursday. "It is worse when it rains because water accumulates all over this place within 15 minutes of a heavy downpour and remains there for days."
The residents also complained that the stagnant water was a threat to their health, especially with frequent outbreaks of waterborne diseases such as cholera and typhoid in the neighbouring Dzivaresekwa suburb.
"Apart from cholera and typhoid, we risk malaria as there are a lot of mosquitos in this area, especially during rainy seasons," said another resident, Adrianne Mlambo.
"Imagine, we have to carry our school-going children on our backs for nearly a kilometre to the outskirts of this area as they cannot walk through all this water."
Mlambo said when left to walk alone, some of the children slip in the mud and end up failing to go to school as they would be dirty and wet.
At times, the residents said, they scoop water out of the houses due to the poor drainage.
They claimed that they had tried to hold meetings with Mudavanhu to no avail.
The Tynwald North flats were built by the housing ministry in 1995. The government later engaged Develop IT Zimbabwe to service roads and provide infrastructure for electricity.
The residents complained that they were each forced to contribute US$300 two years ago for them to receive power in their area.