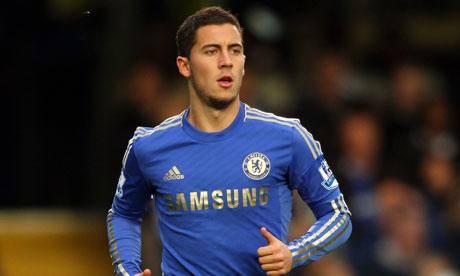 Chelsea's Eden Hazard has been charged with violent conduct by the Football Association after kicking out at a Swansea ball boy. Report by BBC Sport
The Belgian midfielder (22) faces a three-match ban for his dismissal, but the FA alleges the standard punishment was "clearly insufficient".
Hazard was sent off in the Capital One Cup semi-final second leg after the incident with Charlie Morgan (17).
The player has until 18:00 GMT on Tuesday to respond to the charge.
The FA says it will remind all clubs "of their responsibilities in ensuring ball boys and other personnel around the pitch act in an appropriate manner at all times".
Hazard was trying to retrieve the ball from under the ball boy, who had fallen on top of it, in the 78th minute of Wednesday's match.
The scoreline was 0-0 at the time, with Chelsea needing at least two goals to take the match into extra-time. The game ended 0-0 with the Swans going through with a 2-0 aggregate win.
Hazard apologised to the ball boy afterwards.
If Hazard is found guilty it is thought he will face a four-match ban, with one further fixture added to the standard three-game suspension.
The disciplinary panel would have the power to go higher but that is believed to be unlikely.