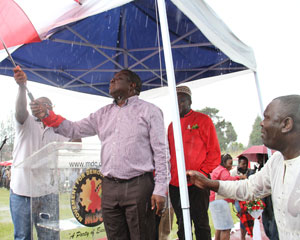 Gweru — A heavy downpour at Mkoba stadium disrupted Prime Minister Morgan Tsvangirai from launching the constitutional referendum "Yes" vote campaign yesterday.
BY BLESSED MHLANGA
Tsvangirai, who was billed to officially launch the campaign, was yet to take the podium when thousands of MDC-T supporters were forced to flee the stadium in search for cover after the heavy down pour.
Other supporters braved the rains, hoping the downpour would subside. Tsvangirai, who snubbed President Robert Mugabe's Bindura birthday bash, walked into the rain, where he was forced to make a few remarks before telling the drenched party supporters to go back to their respective homes.
"Go back home and urge all the people there to vote 'yes' on March 16 at the referendum," said Tsvangirai amid the downpour.
But driving out of Mkoba Stadium into surrounding suburbs and the city centre, it was amazing that most parts of Gweru were dry.
Gweru and other parts of the Midlands have been experiencing a dry spell, resulting in most crops in the province suffering from serious moisture stress.
New constitution a victory for MDC: Biti
Speaking just before the downpour MDC-T secretary general, Tendai Biti told the over 5 000 supporters that the Constitution had scored a victory over Zanu PF, which used to deny Zimbabweans of Malawian and Zambian origins the right to vote.
"Zimbabwe as a nation had suffered because Zanu PF had taken the issue of citizenship as a football game, denying those of Malawian and Zambian descent their right to vote, yet holding Identity particulars of Zimbabweans. This constitution addresses that problem," said Biti.
He said the general elections, expected in June or July this year, would present an opportunity to those previously labelled aliens to "revenge" against Zanu PF. "You will have the right to vote and you will have the opportunity to punish those who have been denying you the right to vote," said Biti.