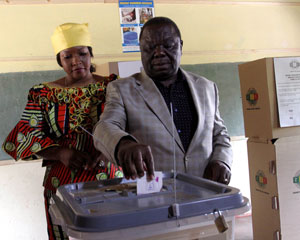 PRESIDENT Robert Mugabe voted at Mhofu Primary School in Highfield yesterday describing the referendum as a momentous occasion for the country.
BY OUR STAFF
"This is momentous, it is a day when we are all called as Zimbabweans to receive our own destiny," he said soon after voting.
Accompanied by the First Lady, Grace and their eldest daughter, Bona, Mugabe said he had voted 'Yes' and hoped the new constitution would be adopted.
"If we vote 'Yes' our own constitution would be made and the process of legalising it will take place," he said.
Mugabe conceded that there had not been enough time for people to study the draft constitution, but considering that there had been an extensive outreach programme that was not an issue.
"Perhaps more time was needed," he said. "But we went out and collected the views of the people and after that we had a stakeholders meeting. We cannot say the people were not involved."
The president said the new constitution was important as it guaranteed freedoms, child rights and women's rights.
Mugabe reiterated his peace call, urging Zimbabweans to embrace the peace that prevailed during voting days.
He also said the new constitution meant that Zimbabweans controlled their natural resources.
Mugabe's Zanu PF party is leading an indigenisation drive, which has been criticised in some quarters, as it is feared that this could sound the death knell for the country's fragile economy.
Prime Minister Morgan Tsvangirai voted at Chitungwiza's Chaminuka Primary School in St Mary's where he said the constitutional referendum was a step towards a free and fair election due this year.
 "We have just exercised one of the most important historic steps since the constitutional movement was launched in 1997," he said. "Those who lost their lives, I think, will rest in peace because this is an important step that we have been fighting for.  What is significant is that the country, the people of Zimbabwe are not outsourcing their destiny, to anybody else. We have defined this for ourselves."
He expressed the hope that the exercise would usher in a new political culture.
"This is a new political dispensation and I hope it brings in a new political culture … from the culture of impunity to the culture of constitutionalism," he said.
The arrival of Tsvangirai, who arrived at the polling station with his wife Elizabeth Macheka, roused excitement among fellow voters.
Old women ran and jumped around in celebration, with some rushing over to the couple to shake hands with them.
The crowd swelled after Tsvangirai moved to address journalists outside the polling station, with residents shouting and whistling in excitement, drowning the Prime Minister's voice in their noise.
Some elderly women attempted to hug Macheka who was rescued by Tsvangirai's security personnel.  The two had a nightmare getting into their car as the people followed them around.
The Sadc executive secretary, Tomaz  Salomão, who was at the polling station as an observer well before Tsvangirai's arrival, said he was happy with the peaceful  environment.