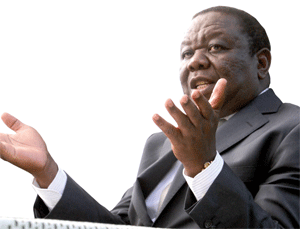 PRIME Minister Morgan Tsvangirai is this week set to confront President Robert Mugabe over the onslaught on his party and the civil society by the State security agents, it has been learnt.
BY OUR STAFF
The confrontation comes as several organisations have also written to Mugabe complaining about continued detention of human rights lawyer, Beatrice Mtetwa and a number of MDC-T officials on what are believed to be trumped up charges.
Tsvangirai's spokesman, Luke Tamborinyoka confirmed that Tsvangirai will approach Mugabe, on what the party terms as political instability.
"Even though he spoke to the then acting president [Joice Mujuru], he will speak to the President about it," Tamborinyoka said. "Remember he also spoke to Sadc about it this week and this was reported."
Tamborinyoka would not get into further details, saying he was at a workshop and a comprehensive statement had been released in the past week.
Tsvangirai is expected to demand an explanation from Mugabe at tomorrow's meeting, where they usually discuss issues affecting the operations of the coalition government.
Following an onslaught on civil society, authorities seem to have shifted their focus onto the Prime Minister's office, arresting four officials and their lawyer, Mtetwa.
Two more officials from Tsvangirai's office were picked up and questioned but released without charge.
But questions have been asked about the MDC-T and their leader's lethargy in condemning the arrests and confronting authorities.
The MDC-T was conspicuous by its absence at the Rotten Row Magistrate's courts, where civil society organisations took the lead in calling for the release of Mtetwa and officials from the Prime Minister's office.
Despite statements condemning the arrests, many had expected Tsvangirai and his party to take a lead and seek an audience with President Robert Mugabe.
Tsvangirai only issued one statement on the arrest of the MDC-T officials last Monday and so far his office has been mute about the further detention.
The Sadc Troika met in South Africa recently where they castigated violence in Zimbabwe.
The leaders also urged the country to ensure that peace prevails ahead of the referendum, which was held a fortnight ago and elections later this year.
South Africa's President Jacob Zuma gave a report back on the situation in Zimbabwe.
"Sadc called for an end to violence," Zuma's international adviser, Lindiwe Zulu said last week. "Sadc has consistently called for the end of violence in Zimbabwe."
She said the recurrence of violence was a concern to Zuma, the facilitator to the Zimbabwe crisis and to the regional body.
Mtetwa was arrested after she demanded to see a search warrant from police officers who were searching MDC-T official, Thabani Mpofu's offices.
The police allege that she was obstructing them from carrying out their duties and she should have asked for the search warrant after they were done with the searching, according to the Criminal Procedure and Evidence Act.
"We call on the government of Zimbabwe to honour its international human rights obligations, to release  Mtetwa immediately and to ensure the personal and professional safety of her and her colleagues to carry out their professional duties, and not to be intimidated and hindered in doing so," continued the letter.
The letter was also copied to Minister of Justice and Legal Affairs, Patrick Chinamasa, police Commissioner-General, Augustine Chihuri, the officer in charge of the Harare Central Police station, Home Affairs minister, Kembo Mohadi, Attorney General, Johannes Tomana, Zimbabwe's embassy in Brussels, the Netherlands embassy in Harare and the Law Society of Zimbabwe.