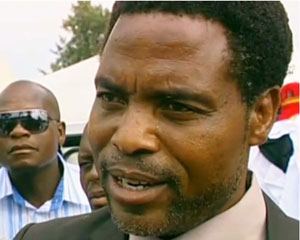 WAR veterans have declared that they will "not allow" Prime Minister Morgan Tsvangirai's MDC to win harmonised elections expected later this year.
Report by Stephen Chadenga
Addressing journalists at Gweru Press Club last week war veterans' leader, Jabulani Sibanda accused the MDC leader of betraying the liberation struggle by calling for economic sanctions imposed by Western nations against Zimbabwe.
"You ask me what we will do in the event that MDC and Tsvangirai win elections," said Sibanda. "I am a revolutionary and revolutionaries do not live by assumptions. The party must not win the elections."
Pressed further to elaborate what he meant when he said war veterans "will not allow any other party other than Zanu PF to win the next plebiscite", Sibanda said they would achieve their goal of preventing Tsvangirai from winning without using political violence.
"War veterans do not believe in war, revolutionaries do not believe in war but in ideas. We believe that one day ideas will overcome weapons," he said. "We will go out there campaigning and educating our people and come elections day, they will know where to vote." Sibanda however poi-nted out that in any revolution, the use of arms of war could not totally be ruled out.
"If the worst comes to the worst, our weapons will defend our ideas," said Sibanda, without elaborating.
Turning to corruption, Sibanda said he was opposed to the scourge adding that Zanu PF was not corrupt but just certain individuals within the party.
War veterans have been behind Mugabe's violent elections campaigns in previous polls.
In 2000, they spearheaded a violent land invasion displacing hundreds of commercial farmers and their workers resulting in food crisis in the country.
Related Topics