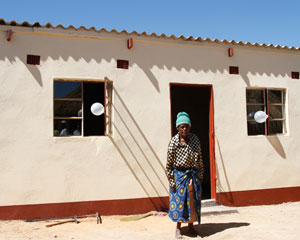 Home-seekers in Mutare have an opportunity to get stands after the Zimbabwe Amalgamated Housing Association (Zaha) expanded its wings to the eastern border city.
Report by Tawanda Marwizi
Zaha director-general, Killer Zivhu said hundreds of Mutare residents are set to benefit from houses and residential stands the association plans to develop.
"Our main aim as an association is to make sure that every Zimbabwean gets decent accommodation at an affordable price. We have taken our association to Mutare," he said.
Zivhu said the association would formally launch in Mutare at Sakubva stadium on May 18.
He said a number of musicians have been invited to entertain people at the launch.
Zivhu said Zaha has already secured equipment to develop the various pieces of land it has secured in several parts of the country. Zaha is partinering Allied Bank to avail low-income residential stands in the eastern border town.
Under the scheme, prospective house owners will have to open a Home Owner savings account and maintain at least US$500 in their bank accounts.
Just over a week ago, the housing association donated a house to 81-year-old Mazvivamba Mambeva in Mushayavanhu village in Gutu.