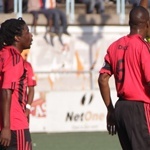 AMBITIOUS Premier Soccer League side Chicken Inn have signed former Soccer Star of the Year Clement Matawu and released central defender Sydney Linyama to Dynamos.
BY ALBERT MARUFU
Chicken Inn sold the player to Dynamos at the beginning of the season, but blocked the latter from using him until the full payment of the US$20 000 transfer fee. Linyama only featured in one CAF Champions League match.
Club secretary, Tavengwa Hara told Standardsport that Dynamos could now use the player, as they had met the club's demands. "We have now sorted everything with Dynamos and they can now use Linyama," he said.
Prior to the two teams agreeing terms, Linyama had asked Dynamos coach Kalisto Pasuwa to be released as he was getting frustrated by being on the sidelines.
Hara added that Chicken Inn, who are on position three with 30 points, one adrift of log leaders Harare City, have bolstered the team by making a number of signings.
"We have signed Matawu from Motor Action, and the coaches can use him if they want in the game against Highlanders on Sunday [today]. We are also going to register Evans Chikwaikwai, Hardlife Mavundi, Dylan Chivandire and our goalkeeper Ephraim Mazarura. We definitely want to build a championship winning team. However, we are going to loan Mazarura to clubs that are interested in him," he said.
Chikwaikwai, the 2008 Soccer Star of the Year, has fully recovered from the injury sustained last year, while Mavundi has been on loan to FC Platinum where he struggled to get game time.
Elsewhere, relegation-threatened Black Rhinos look set to swoop in on former Dynamos striker Norman Maroto, Misheck Mburayi and Blessing Sande from the bottom-placed Motor Action FC.
Though Black Rhinos coach Arthur Tutani could not be drawn into confirming the club's latest acquisitions, a source close to the club confirmed the deals.
"It is almost a done deal because the players are willing to join the club and the coach wants them as well. The coach believes that the three players, in addition to those that he has at his disposal, will help the team survive relegation," said the source.
Black Rhinos, sitting on position 14 with 17 points, are in the drop zone. They also recently boosted their squad with the addition of veteran striker Gilbert Mushangazhike.
Related Topics