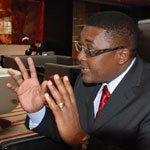 ZIMBABWE'S tourism and hospitality industry has the potential to employ nearly 1,2 million people riding on a peaceful post-July 31 period, a government official has said.
REPORT BY OUR STAFF
The country is set to hold watershed harmonised elections on July 31 to replace the inclusive government formed four years ago.
Tourism and Hospitality Industry minister, Walter Mzembi said with continued peace and stability, the tourism sector would contribute 15% to the Gross Domestic Product (GDP) by 2015 and employ one person in every 12 persons in Zimbabwe.
"I project that the country's tourism sector will rake in US$5 billion by 2015, if the correct peace and stability prevails," Mzembi said last week.
The tourism industry has the quickest turnaround ahead of other sectors such as agriculture and mining.
The tourism sector is on a growth path buoyed by the stable political environment and an aggressive marketing strategy.
Mzembi said the country would use the United Nations World Tourism Organisation (UNWTO) General Assembly next month to position the country as the best tourist destination.
Zimbabwe and Zambia are co-hosting the 20th session of the UNWTO General Assembly in Victoria Falls and Livingstone respectively.
The General Assembly runs from August 24 to 29.
Official figures showed that Zimbabwe recorded a 17% increase in tourist arrivals in the first quarter of 2013 with all major markets registering increases.
"Tourist arrivals currently stood at 404 282 up from 346 299 in 2012," Zimbabwe Tourism Authority (ZTA) said in the first quarter report.
It attributed the growth to the country's improved destination image.
"The ever-increasing regional trade and commerce also contribute immensely to the growth through indirect transiting tourists and business tourists as shown by the current 40% increase in business tourists and 65% increase in shopping tourists," ZTA said.
The industry is the first to get affected by the knock on effects of an unstable political environment.
After the 2008 disputed Presidential election runoff, traditional source markets imposed travel warnings on its citizens intending to travel to Zimbabwe.