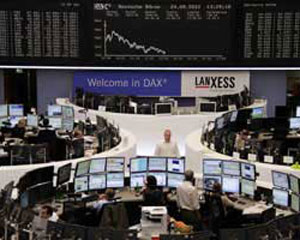 LONDON — Britain's blue chip shares crept higher on Friday, finding technical support after suffering their steepest one-day percentage drop in almost two months in the previous session.
Reuters
The FTSE 100 closed up 16,65 points, or 0,3%, at 6,499.99 points, having fallen 1,6% on Thursday. Analysts said that the 50-day moving average, currently at 6,451, would provide short-term support.
Should the index close below this level, then the immediate levels of support on the way down are 6,400, previously resistance, followed by the 200-day moving average, currently at 6,292, according to GFT Markets analyst Fawad Razaqzada.
"Although my long-term outlook is still bullish on the FTSE, I will feel the same way about the near-term trend if and when the index takes out 6,640."
The steep falls on Thursday came after robust US jobless claims data, which fuelled concern the US Federal Reserve might, from next month, start cutting back its stimulus — one of the major drivers of this year's equity market rally.
This trimmed the UK benchmark's gains this year to around 10 percent, taking it down about 6 percent from the year's high of 6,875.62 points set in late May.
"Quite a few valuations have started to look quite full so it feels like maybe there's a bit of taking profits in some shares," Smith & Williamson fund manager Tineke Frikkee said.
Frikkee has bought into Tui Travel, which is looking better value after sharp falls on Thursday.
Related Topics