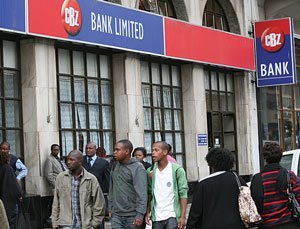 A cash-rich Malaysian-based private equity fund has snapped more than a tenth of CBZ Holdings issued shares in a special bargain deal worth US$8,3 million.
BY OUR STAFF
A special bargain occurs where buyers on the stock market purchase huge chunks of shares at a special price agreed by the seller. Close sources said Safari Quantum bought 55 671 681 CBZ shares on Friday at a price of US$0,15 per share.
The transaction was handled by Bethel Equities (formerly ISB Securities).
Officials from Bethel Equities and the Zimbabwe Stock Exchange said the identity of the buyer would be revealed this week.
Executives from CBZ were said to be attending meetings when Standardbusiness called on Friday.
At the group's analysts briefing last Thursday, CBZ Holdings group chief executive officer, John Mangudya said the banking group was working on a number of measures to help increase liquidity, with the sale of Treasury shares to foreign investors being one of the options.
The Treasury shares were bought after the bank's shareholders agreed to management's proposal to buy back its shares on the grounds that it had a cluttered shareholding.
The shares represent about 15% of the total shares in issue. The special bargain deal comes barely a week after the banking group announced that it had issued a US$10 million convertible debenture that was fully taken up by foreign investors.
Money raised from the convertible debenture — a type of loan issued by a company that can be converted into stock by the holder and, under certain circumstances, would be used to manage the bank's liquidity and be able to lend on the long term.
Banks liabilities (deposits) are mainly short-term or transitory in nature due to the harsh operating environment. As a result, banks have been offering loans on a short-term basis.
To be able to lend on the long-term, local banks have been resorting to offshore lines of credit.
Mangudya said CBZ was looking offshore for lines of credit and currently has facilities amounting to US$220 million.
In the six months to June 30, CBZ recorded a drop in its net profit to US$16 million from US$18,3 million recorded in the same period last year, attributed to the increased cost of doing business and a government directive for bank charges to be reduced.
Operating expenditure shot up to US$42 million from US$37 million. Analysts say CBZ has managed to attract foreign partners riding on its robust growth over the years and its ability to declare dividend to shareholders.
Its banking arm has already surpassed the US$100 million minimum equity capital threshold required of commercial banks by December 2014.
Related Topics