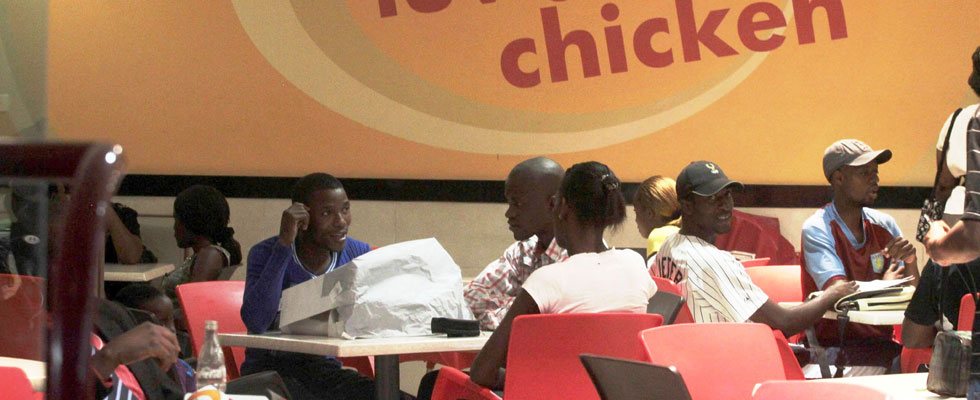 STIFF competition in the food industry has forced some fast food outlets in Harare to be more innovative, in an effort to remain in business, Standardcommunity has observed.
BY DALPHINE TAGWIREI
In the past few months, most fast food outlets embarked on aggressive marketing strategies, as well as coming up with new ideas that attract more customers.
Innscor Foods Zimbabwe —which runs Nandos, Bakers Inn, Chicken Inn, Pizza Inn and Steers — enjoyed a near monopoly in the fast food industry in the country for several years before the coming on board of other brands like Chicken Slice and TN Grill.
Competition has also seen most food outlets significantly slashing prices, as well as introducing new menus and promotions.
In an unexpected move, Chicken Inn introduced sadza on their menu, a development which people in the food industry interpreted as a desperate measure to capture customers that were served by small food outlets.
The sadza, which is served with tomato and onion soup, costs US$2 with one chicken piece and US$3,50 with two chicken pieces.
Only a few months ago, Chicken Inn launched the "dollar meal promotion" which has seen pieces of chicken or a standard size of chips going for US$1 from the previous US$2.
Innscor Group corporate executive, Musekiwa Kumbula said the company responds to competition from other food outlets by continuously offering better quality food at competitive prices.
"We always look for ways of broadening our menu offerings, as we strive to cater for an increasingly diverse market, hence the introduction of sadza to our menu," he said.
Analysts said the food industry should brace for more competition after Kentucky Fried Chicken (KFC) indicated that it may open branches in the country.
Market information has linked KFC, an internationally acclaimed fast food chain, to a partnership with a local company, where it would open outlets in Harare and other strategic points across the country. But Kumbula said the coming in of KFC would not affect the group, as it once operated in the country but closed down.
He said Innscor has faith in the quality of its products and service which differentiates them from the market.
Even smaller and emerging outlets are also becoming innovative in order to lure customers in their bid to remain afloat.
Luv'n'dee food outlet along Jason Moyo in Harare is offering two specials on their menu: quarter chicken with chips and a 330ml pet drink for US$3 and a sausage roll and a pet drink for US$1,50.
Cecelia Lovely Ngwenya, who runs Luv'n'dee, said she was recording brisk business with people from all walks of life thronging the outlet.
"The promotion is beneficial to the business," she said. "We are even surpassing the sales we had before we launched the promotions."
S'n'Joy Restaurant along Nkwame Nkrumah Avenue in Harare has introduced a system whereby after one buys a plate of sadza 10 times in the outlet, he or she receives one plate for free.
Despite the stiff competition in the industry, new players keep joining the sector every day. Some of them are not licensed and operate in backyards of major building to avoid detection by law enforcement agents.
Related Topics