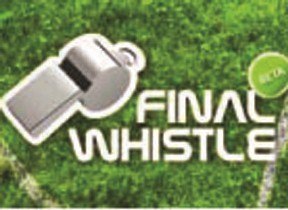 I went to Zambia on my first ever foreign trip as a journalist in 1999 with the Under-23 team for the All-Africa Games qualifier between Zimbabwe and Zambia at Independence Stadium.
Final Whistle with Simba Rushwaya
The Young Warriors team then consisted of players such as former Warriors captain Benjani Mwaruwari, Master Masiku, Mkhupali Masuku, Richard March, Butholezwe Mahachi, Murape Murape, Fungai "Tostao" Kwashi and former Arcadia United centre back Miguel Lemming, to name just but a few.
Zambia had the likes of skilful Emmanuel Zulu, Gift Kampamba and rock steady defender Moses Sichone who would go and ply his trade in Germany.
Back then, I must confess Zambia was inferior to Zimbabwe in many spheres, and I was not amused when I saw an almost dilapidated Independence Stadium to be their flagship stadium. Almost like Gwanzura stadium, the stadium, situated on the outskirts of Lusaka, made me wonder what kind of country Zambia was.
Their currency, the kwacha made my experience in that country even worse, because unlike back home where you could buy a newspaper for ZW$2, in Lusaka The Daily Mail was going for 1 000 Kwacha. I was taken aback.
But that is beside the point.
Recently I went to Zambia for the Cosafa Castle Cup final in Ndola, when the senior team played the hosts at Levy Mwanawasa Stadium. I could not believe my eyes.
The eyesore Independence Stadium has now been replaced by the bravura Levy Mwanawasa, which competes very well in its appearance with European stadia, complete with elevators.
A similar structure is being built in Lusaka and very soon, the former poor Zambia will be boasting of two world-class structures, and I will not be surprised if they become the second nation in southern Africa to host the African Cup of Nations finals after South Africa.
To put icing on the cake, their team which is popularly known as Chipolopolo, did their nation proud when they won the 2010 edition of the Nations Cup and since then their profile has been skyrocketing, thanks to the exploits of hands-on Football Association of Zambia president and legend Kalusha Bwalya.
Everything points to sound administration in Zambia, a stark contrast to our Zimbabwe Football Association (Zifa), where petty personal wars are the order of the day while the game suffers. Today, Zifa is bankrupt and their woes have no end in sight, while their property is being attached for non-payment of debts.
Chipolopolo, I am told, will be playing Brazil in China in the near future, in a friendly match and I think that is the best way to go. Zifa can learn a lot from the way the Foofball Association of Zambia is going about their business.
From a dire case, Zambia has risen to be a force to to be reckoned with infrastructurewise and indeed on the pitch, while our teams are banned because they could not fulfill fixtures.
The government has not done much either, as our last big project was the National Sports Stadium. For a country like Zimbabwe, it is a shame we have stagnated so much, while other countries are taking great strides ahead.
We have to learn a lot from our northen neighbours, who in 1999 were a pale shadow of themselves but have now risen to be counted among the best in Africa.
For views and comments email srushwaya@alphamedia.co.zw