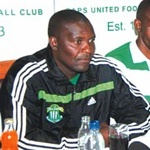 CAPS United….(1) 2 Chicken Inn…(0) 1
Albert Marufu
CAPS United put their in-house problems behind to beat Chicken Inn in an exciting Mbada Diamonds Cup quarterfinal at Ascot Stadium yesterday.
The "Green Machine", who last week were rocked with problems that saw their coach Taurai Mangwiro throwing in the towel before making a dramatic U-turn, got their goals through Tawanda Nyamandwe's 18th minute header and second half substitute David Redidiyon's strike in the 60th minute.
Brian Mbirimi reduced the arrears in the 54th minute for Chicken Inn. A relieved Mangwiro could not hide his excitement after the match as he said another loss after last week's defeat to Shabanie Mine would have worsened his team's problems.
"It is good that we have progressed to the next round of the competition. We worked hard for this and I am happy we won the match," said Mangwiro.
Chicken Inn assistant coach Mandhla Mpofu said he was not happy with the way the referees handled the match.
"The referees were a bit disappointing, but we gave CAPS United a lot of room in this match. We also missed a lot of chances," he said. CAPS United could have got the opener as early as the third minute had Nyamandwe's header off Benson Maglas's cross found the mark.
Chicken Inn, who had dedicated the tournament to their late coach Adam Ndlovu, also had a chance to surge forward but Tafadzwa Dube was at his best to deny Clement Matawu.
However, after an exchange of blows, CAPS United finally got the breakthrough they badly needed in the 18th minute when Nyamandwe headed in a Ronald Pfumbidzai corner.
Chichen Inn replied in the 54th minute after Mbirimi's powerful strike from outside the box beat Dube.
However, CAPS United had other ideas as Rediyoni found the mark, just four minutes after replacing Dominic Chungwa.
Related Topics