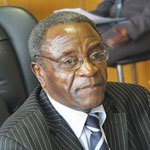 MEMBERS of the public have reacted angrily to reports that former Premier Service Medical Aid Society (PSMAS) boss, Cuthbert Dube was earning US$500 000, with some urging the government to seize some of his properties.
BY PHYLLIS MBANJE
Dube earned US$230 000 per month excluding allowances. Despite the fact that Dube has been relieved of his post at PSMAS, Harare residents who spoke to The Standard said he got off easily, and wanted him to be held to account.
Brian Charumbira from Avonlea in Harare had this to say: "We are not happy at all. How can one person take home such an outrageous amount of money when others are getting peanuts?"
Charumbira said as a member of the medical aid, he was not amused that most service providers were now declining to offer them services due to non-payment by PSMAS.
He said at times he had to pay cash for services, yet he was contributing every month.
"He [Dube] has razed PSMAS to the ground and it is not fair because people are contributing faithfully every month," said Charumbira."They should seize some of his property to compensate for what he selfishly took."
Equally fazed by the Dube salary was Zed Machinjika who said the salary was too high and not many people earned that amount anywhere else in the world.
"We are struggling and yet someone has the audacity to shamelessly take a salary that high," he said. "It is a pure case of fraud. He should pay back some of the money."
A fuel attendant at a service station at Marimba Shopping Centre, Martin Chihwerure said he was shocked when the news about the salaries broke.
"I was shocked, and even now I still cannot believe that someone was getting that much. It was bad enough that the likes of Happison Muchechetere [former ZBC chief executive offi-cer] was getting about US$27 000 excluding the perks, but US$230 000?" said Chihwerure.
Another man who identified himself as only Thembalami from Greencroft said Dube should be fired from all the other public offices he holds because he was not of a good standing in the society.
Dube is currently the Zifa chairman and was recently fired at the Zimbabwe Broadcasting Corporation (ZBC), where he was chair of the board.
"There are two solutions to this, he should be fired from all the other public offices and some of his properties should be seized, period."
However, some people expressed different opinions, saying Dube was not to blame.
Mathew Chisero said: "It is not really Dube's fault. The board must have approved those salaries. Dube actually lifted up the standards of PSMAS, so it is not fair to blame him. His only crime is that he lacks morals and basic human principles."
The salaries of the eight managers totalled at least US$1 million, while PSMAS's unpaid debts amount to US$38 million.
The board of directors resolved to relieve Dube of his post, citing retirement age when the story of his obscene salary was made public. Board chairperson, Meisie Makeletso Namasasu was also fired.
Related Topics