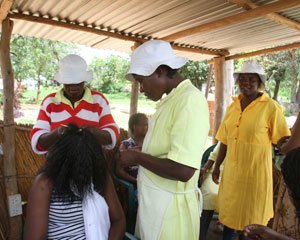 Some former prisoners, who were released recently under the Presidential clemency, could revert back to crime if they are not properly assisted to re-integrate back into society, prisoners' welfare organisations have said.
BY OUR CORRESPONDENT
The organisations feared that the ex-inmates could soon go back to their criminal ways unless they find work or start income generating projects for survival.
Last month, President Robert Mugabe pardoned 2 000 prisoners, a development that came against the backdrop of overcrowding in the country's prisons.
Zimbabwe Female Prisoner Support Trust director, Rita Nyamupinga said she feared that many former prisoners could find themselves back in jail if they failed to get assistance to rebuild their lives.
"We are not able to assist all of them at the moment and our hope is that we will be able to get the necessary funding so that some of them will not end up being criminals again because at the end of the day, they need to earn a living," said Nyamupinga, whose organisation helps former prisoners re-integrate into society.
A significant number of ex-inmates have been re-arrested within days of their release after they committed other crimes.
Nyamupinga said her organisation was unable to source even transport money for some of the former inmates to enable them to go back to their respective homes.
Some of the former prisoners have been living on the streets in cities and towns since their release two weeks ago.
Nyamupinga said discrimination of the ex-convicts was still rampant in society, a development which she said had complicated the former prisoners' re-integration.
"There are some people out there who would feel that it is not fair for someone who was supposed to spend five years in jail to be released well before that time and there is also stigma even at family level as a family might find it hard to accept someone who has been behind bars for a number of years," said Nyamupinga.
She said her organisation was in the process of establishing a revolving fund that would enable former inmates to access small loans to start income generating projects.
Zimbabwe Association of Crime Prevention and Rehabilitation of the Offender (Zacro) chief executive officer, Edison Chiota said they had been caught off guard because they were not expecting the Presidential pardon.
He said he only knew that prisoners would be pardoned a day before they were freed.
"Our major problem as far as the welfare of the former inmates is concerned is financial resources. We do not have the resources to enable us to cater for the welfare of the former prisoners," said Chiota.
"So what this means is that we had made no preparations and also, we did not have the time to look for partners who would assist us. There are a lot of the former inmates who are seeking assistance but at the moment, we are not in a position to provide that."
He said the situation had been further compounded by the lack of proper coordination between the Zimbabwe Prison Services (ZPS) and welfare organisations on the skills that some of the inmates learnt while in detention.
"We look at what skills the Prisons Department imparted to the former inmates and then we move from there. But at the moment, we do not know what it is that we can complement and this has somehow complicated the process as well," said Chiota.
Related Topics