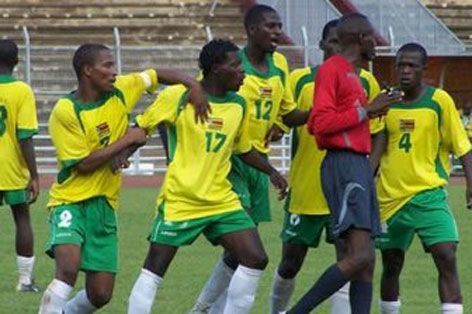 The Zimbabwe Football Association (Zifa) says the All-Africa Games and 2016 Rio Olympics qualifiers would be doomed if they do not immediately get financial assistance.
BY MICHAEL MADYIRA
While the corporate world has deserted Zifa, the local football governing body has already presented the Ministry of Sport, Arts and Culture with a US$3,2 million budget to cater for national teams this year.
With the All-Africa Games qualifiers commencing in just over a month's time and with the ministry silent, Zifa fears for the worst. The bid to qualify for the African Under-23 Championship from where the top three clubs automatically qualify for the 2016 Rio Olympic Games begin in April.
Zifa in turn have also been cold on the Under-23 technical team who are currently stranded with no clear plans for camp.
All-Africa Games will be held in Congo Brazzaville in September while the African Under-23 Championship are slated for the DRC in December. Zimbabwe have been paired with Swaziland in the qualifiers first round of the All-Africa Games on the weekend of February 20-22 away in Mbabane before the return leg in Harare two weeks later. Passing that hurdle will set them for a date with Cameroon in the second round in what would be a stern test for the Young Warriors. Kalisto Pasuwa's boys date Swaziland again in the African Under-23 Championship preliminary round on the weekend of April 24-26. Progressing past Swaziland would see them meeting stronger opponents South Africa in the first round. If they sail past South Africa, they will face a more demanding task against Senegal in the second and final qualifying round. After Zifa's financial mess denied Pasuwa a proposed training camp in December, the Young Warriors are facing a bleak future with no plans so far for next month's Swaziland assignment. Zifa spokesperson Xolisani Gwesela said the government has remained mum on their proposed budget. "If we do not get money for these qualifiers from the government then we are in trouble," said Gwesela. Last year we presented our 2015 budget to the government and we are still waiting for them to get back to us. That is why we have not yet met the technical team to discuss camping and other related issues, but we hope to meet them soon," said Gwesela. While it has been appreciated that Zifa has no money, the association has been silent on the technical team's requests. Under-23 manager Patrick Mutesva said they are still waiting for Zifa's word. "To be honest, there has not been anything that has materialised especially from the Zifa side, maybe because they have just started work from the festive holidays," said Mutesva. "We had wanted to camp a week after our local Premier Soccer League season ended but that did not happen. Alternatively, we would have loved that by now we would be in camp to cover up for the time we lost in December. We are just waiting for Zifa to come back to us."