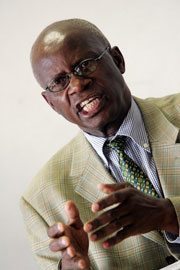 GOVERNMENT is willing and ready to engage investors and international partners to drive the economic development agenda of the country, a Ministry of Finance and Economic Development official has said.
BY TARISAI MANDIZHA
Zimbabwe is in desperate need of investment to stimulate economic growth.
Desire Sibanda, head of Fiscal Policy and Investment Promotion in the Finance ministry told a validation workshop that there was need to realise the importance of attracting investment and growing the economy since Zimbabwe had the least Foreign Direct Investment (FDI) in the region.
"The implementation of the agreed action plan will lead to the country catapulting its position into the top 100 in the world. Pursuing the report shows that some of the reforms recommended are painless tweaks to our processes with a far-reaching impact on business registering," Sibanda said.
He said government was saddled with low revenue streams from a narrowing tax base or revenue, disproportionate trade balance and deceleration in economic growth.
Sibanda said the business community had reported a lot of firm closures leading to unemployment and resulting in poor revenue inflows to Treasury.
"Poor performance of revenue inflows and rising recurrent expenditure has resulted in a constrained fiscal space. The manifestation of this has been a glaring absence of meaningful investment in capital projects. These challenges are a result of the nation's failure to attract significant foreign financial inflows, both Foreign Direct Investment (FDI) and long-term lines of credit," he said.
Sibanda said investment policy should be fully leveraged as a tool of tackling the economic challenges and for this to be realised, policies and procedures should be unambiguous, simple and competitive.
"We live in a competitive world. Africa generally is attracting investment. It has been recently discovered the returns that Africa offers outweigh the risks by far. So Zimbabwe needs to be competitive and take advantage of the changing perceptions about Africa," he said.
"Africa is open for business.We need therefore to promote investment so that we can achieve the growth rates stated in Zim Asset and actually register double digit growth by 2015," he said.
Zim Asset projected a 6,1% economic growth. The World Bank last week however said that the economy would grow by 3,2% in 2015.
Zimbabwe Investment Authority (ZIA) chief executive officer Richard Mbaiwa said the context of the study was carried out with the aim to promote efficiency within the institution and collaborate to improve processes.
"It should be emphasised that this study is part of the wider Doing Business Reforms process and will collapse into the Starting a Business technical workshop group when it starts functioning.
Meanwhile, we are working with all the various cooperating agencies and development partners who are available to make this work move forward," Mbaiwa said in a speech read on his behalf by a ZIA representative.
"We are excited at the commitments made by the World Bank to support government reform initiatives and [we] are an active part of that whole process."
Mbaiwa said the initial discussion with United States Agency for International Development (USAid) and the State Enterprises Restructuring Agency (Sera) bordered on a comprehensive study covering all initial efforts at starting a business, including the licensing.