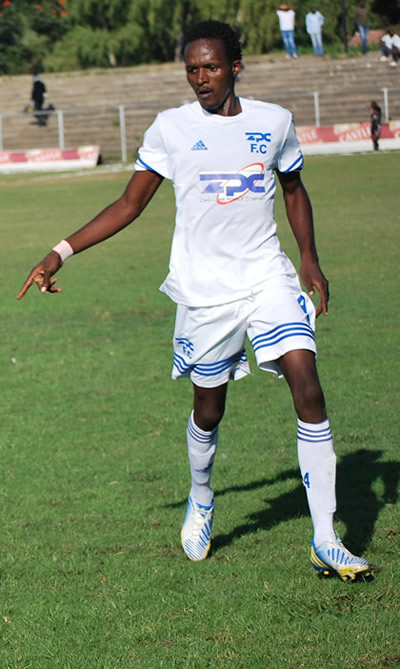 ZPC Kariba enter into the new season with a largely changed squad after 2014 Soccer Star of the Year Dennis Dauda became the latest senior player to dump the club.
BY MICHAEL MADYIRA
The 26-year-old defender is considering a move to Harare City or How Mine while also weighing up interest from Triangle who have emerged as his likeliest destination after he was contacted by Kelvin Kaindu last week.
Dauda was an instrumental figure in ZPC Kariba's sensational campaign last season, culminating in him being voted the footballer of the year. His departure could prove to be a deadly blow to ZPC Kariba who are reeling from the exit of key players.
The club is also grappling to retain Pride Tafirenyika who has been linked with Dynamos.
The power utility side has already lost defenders Obey Mwerahari, Ephraim Mwinga and Peter Muzondo while veteran forward Limited Chikafa has been lured by Luke Masomere at How Mine.
Mwerahari has joined defending champions Dynamos as Mwinga and Muzondo found a new home at Triangle.
The ZPC technical team has also not been spared. Tembo Chuma has switched to Triangle and former manager Partson Ndabambi's contract was not renewed after it expired last month.
Mwerahari, Mwinga, Muzondo and Dauda's exit has become a serious cause for concern to coach Saul Chaminuka's defence crew.
The situation is certainly not a pleasant one for Chaminuka who has stressed the need to retain key players. ZPC Kariba began pre-season training on January 14 while Dauda was attending trials at Azerbaijani side FK Gabala.
After returning from the club's winter camp in Turkey seven days ago, he has not reported at Kariba.
A source close to Dauda said the defender was likely to buy out his contract which was due to end at the end of the year.
"He feels the club does not appreciate him and he is no longer interested in playing for ZPC Kariba," the source said.
"He has already told the coaches that he is not returning to Kariba this year. He is likely to go to Triangle after Kaindu phoned him upon his return from Azerbaijan. How Mine are also a likely destination due to their financial stability. Moving to Harare City is however tricky because they now have a number of established centre-backs there."
Triangle coach Kelvin Kaindu expressed interest in Dauda.
"I will have to find out on Dauda's availability. I understand he still has a contract with ZPC Kariba. He is a good defender, there is no doubt about that. Having him would be a bonus but I will have to check on his availability first," said Kaindu.
"I think we have to add one or two players in defence because that is where we were more vulnerable last season. By Monday we would have concluded something on at least someone."
Chaminuka could not comment on Dauda as he said he was finalising on his squad yesterday.
But the club said in a statement that they are yet to conclude retaining Dauda.
"ZPC Football Club is yet to finalise contractual matters with Pride Tafirenyika and reigning soccer star Dennis Dauda. Dauda has a running contract with the club though," said the club.
ZPC have managed to tie 20 players who did duty last term and have added six new faces.
Thomas Magorimbo, Ishmael Chaminuka, Nigel Tinarwo, Tawanda Muchaya, Ben Ndembe and Piniel Manhope are the new arrivals.