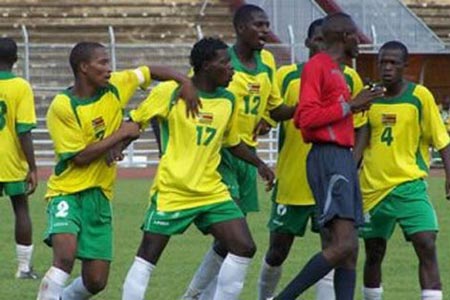 KALISTO Pasuwa and his national Under-23 march into Rufaro this afternoon to face the mighty Cameroon in an All-Africa Games qualifier, but the coach is a bitter man, feeling betrayed by local club coaches who were reluctant to release players for national duty.
BY MICHAEL MADYIRA
Today's final round, first leg match falls outside the Fifa match calendar and clubs are not obliged to release players to national teams.
For the past two weeks, there has been no free-flow of business in the Young Warriors camp. There was constant interruption as players were recalled to clubs.
The trend was sparked by CAPS United coach Mark Harrison who held on to Ronald Pfumbidzai, Takudzwa Mahori and Kudzai Nyamupfukudza. Pfumbidzai was later released but Harrison continued pestering Pasuwa to release the left back.
FC Platinum coach Norman Mapeza followed suit by refusing to let Walter Musona, Emmanuel Mandiranga and Kelvin Moyo go for national duty.
How Mine gave Pasuwa the impression that his first choice goalkeeper Donovan Bernard was injured but the player featured in last week's ZNA Commander's Charities Shield semifinal tie against Highlanders.
Pasuwa claims he was inundated by calls from Highlanders coach Bongani Mafu who was demanding the services of striker Thomas Chideu and Nqobizitha Masuku for yesterday's Premier Soccer League match against ZPC Kariba.
The two players featured yesterday, with Chideu lasting the entire match — something that could compromise him today.
Little Tsholotsho joined in the merciless demand of players by claiming back midfielder Gerald Takwana. Pasuwa's puzzle was complicated further by the PSL's refusal to have fixtures postponed to midweek to allow full attention on the Cameroon task.
The championship-winning coach views the developments as laying bare the unpatriotic stance ever shown by Premier Soccer League (PSL) clubs. This is in stark contrast to Cameroon who arrived on Friday with their best players drawn from their top-flight league "We had wanted to train uninterrupted for the two weeks we had been in camp but that did not happen," said Pasuwa.
"Last weekend we had to release some Dynamos and Highlanders players. It distracts our attention on the mission we have. We are Zimbabweans and this is the time where we have to come together and support the team. But it seems some people have chosen not to be patriotic. This is just too much. We have never witnessed this before.
"This is mostly unfair to the players because for some of them, this is a lifetime chance that can lead to a breakthrough. We have faced hell at home so one is left to imagine what we will experience when we travel there."
Pasuwa also had to deal with drunkards who came to watch the team during training sessions at Chikurubi Prison grounds, pelting him with vulgar words.
Empty containers of opaque beer and hard liquor were strewn around the pitch.
"We chose to train here running away from the disturbances but it seems some people chose to follow us. It is not good shouting at me or players while training. How about on match day?" said Pasuwa. Warriors captain Wisdom Mutasa is keen on seeing the team defy the drawbacks that affected their preparations for Cameroon.
"We have to forget what happened and concentrate on the game at hand," Mutasa said.
"Yes, there were some disturbances here and there but we should not let that affect us. We just have to play and get a good result so that we visit them with an advantage."
The return leg will be played in Yaoundé in two weeks' time.