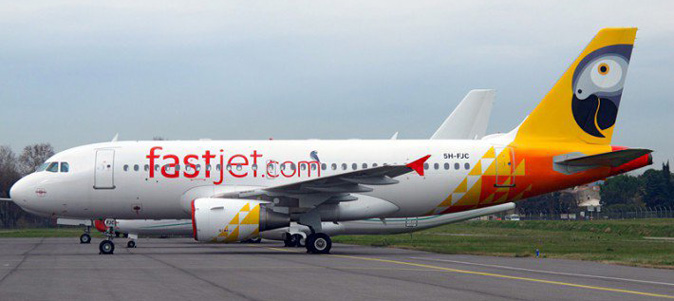 Low-cost carrier fast-jet Zimbabwe began its maiden flights on the Harare-Victoria Falls route on Wednesday promising to democratise air travel with low fares.
BY NDAMU SANDU
The airline has rolled out an ambitious plan where it will seek permission to fly in the region with Zimbabwe as a hub.
Fastjet Plc chief executive Edward Winter said on Wednesday that the airline would invest $15 million in its aggressive approach to expand its wings.
The money would come from the $75 million raised early this year through a share issue to fund its expansion and acquire aircraft.
Ed Lanca, fastjet Zimbabwe director of flight operations, said the airline would empower Zimbabweans to fly. "…our goal is to offer affordable air fares that empower more Zimbabweans to fly, whether it is for business, tourism or for visiting their family and friends," Lanca said.
Lanca said the airline expects to get 40% of its passengers as its first-time fliers.
Fastjet Zimbabwe joins an industry which has seen some low-cost airlines losing their wings.  Flyafrica surrendered its operating licence following a spat between shareholders. The country's first low-cost airline, Fly Kumba, came with lots of promises, but did not live to celebrate its first anniversary, surrendering the licence in 2011.
Aviation experts say low-cost airline business is tough and operators should have a high load factor for the model to be sustainable.
"Even if the airline flies a single person, the fuel used will be the same, so are the landing and navigation fees. So a low-cost carrier has to be full or near-full all the time," he said.
The expert said while the high number of players was good for the travellers as they would compete on fares, the Zimbabwean economy was too small to sustain a high number of airlines.
"South Africa has a population of more than 50 million and some low-cost carriers such as 1time have folded. The two big low-cost players Mango and Kulula are cushioned in that they are subsidiaries of South African Airways and Comair respectively. It's cold up there," said another expert.
Low-cost airlines, the experts added, could manage their costs by putting in place online ticket sales. The airline, he said, could also earn revenue through charging on luggage and selling refreshments during flights.