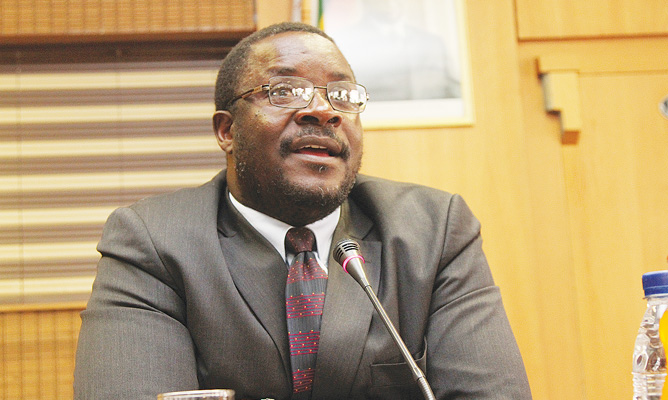 A fresh government onslaught against privately owned newspapers orchestrated through the State controlled media and President Robert Mugabe's office has raised fears Zanu PF wants to silence the media as it battles to deal with the 91-year-old leader's drawn-out succession.
By Phyllis Mbanje
The State media has been waging a silent but systematic war against the private media through shadowy columns and editorials that use language bordering on hate speech.
Terms such as "opposition media" and the "lunatic fringe" have become a common feature in the pages of State-controlled media.
First Lady Grace Mugabe accuses privately-owned newspapers of pushing an agenda against her and has been leading the onslaught.
Mugabe heightened the attacks last month when he berated private newspapers for reporting on factionalism that is threatening to tear Zanu PF apart.
His spokesperson George Charamba upped the ante, accusing the newspapers of being an "appendage of the opposition wishing ill on the ruling party".
Christopher Mushohwe, the new Information minister recently summoned publishers and editors of local media organisations where he complained bitterly about the coverage of the First Family.
Last week, Zanu PF spokesperson Simon Khaya-Moyo threatened unspecified action aganst newspapers that covered a demo-nstration by MDC-T youths demanding Mugabe's resignation.
A clear pattern has emerged of the State-controlled media lining up Zanu PF sympathisers to write opinion pieces about alleged lack of ethics in the private media and critics fear this is meant to set the agenda for an all-out war against independent journalists.
A shadowy columnist for The Herald, Nathaniel Manheru — believed to be Charamba — has written a series of articles accusing independent newspapers of belittling Mugabe and his wife and fighting in the opposition corner. MDC leader Welshman Ncube described Mugabe's attacks against the private media as chilling. He said Charamba's threats were also a threat to freedom of expression.
"Of late, we have had the First Lady wagging a threatening finger at journalists while the president's own spokesperson thinks we express ourselves as an act of divine benevolence from his boss, even if it is our constitutional right to do so," he said in his latest weekly commentary.
"The president himself has issued a chilling threat to the independent media," Ncube added, referring to Mugabe's recent speech at a Zanu PF central committee meeting where he singled out The Standard and NewsDay for attack. The law professor said it was baffling that the ethics that the private media was accused of flouting were not an issue for the public media, which could be a worse culprit. ' "ZBC is a public institution financed by everyone who pays taxes and buys licences, but when it comes to Zanu PF business, this institution puts itself at the disposal of Zanu PF cronies," Ncube said.
"ZBC spends most of its time denigrating and calling us puppets of the West.
"They use their monopoly to portray us as directionless, foreign-funded parties. We are not even afforded a right to respond. This is very irresponsible, actually criminal."
Media Institute of Southern Africa (Misa) Zimbabwe chairperson Kumbirai Mafunda said the threats were not consistent with the Constitution that promotes freedom of expression.
"Constitutional provisions explicitly guarantee media freedom, freedom of expression and citizens' right to access information," he said.
The Zimbabwe Union of Journalists (ZUJ) said it was worried about the safety of journalists in the face of the attacks.
ZUJ recently met the Parliamentary Portfolio Committee on Media, Information and Broadcasting Services in Nyanga where it raised issues around working conditions of journalists and media workers, particularly their safety and protection.
ZUJ secretary-general Foster Dongozi said another meeting would be held with Charamba soon.
"As a country, we need to refrain from threatening each other, it is uncalled for," he said. "If there is a problem, people should sit down and discuss amicably."
Voluntary Media Council of Zimbabwe executive director Loughty Dube said they were worried about the attacks and called for restraint.
"It is unfortunate that this is happening. We condemn it in the strongest terms and urge leaders not to attack the media based on their right to freedom of expression," Dube said.
Dube warned that careless statements were bound to be misinterpreted by ordinary people and this could pose a real danger to the media.
Zimbabwe has a history of media repression characterised by arrests, kidnappings and harassment of journalists perceived to be opposed to the government.
In the past, Mugabe's government has used laws to shut down newspapers and the printing press of the Daily News was bombed in 2001.
The culprits are yet to be accounted for, 14 years after the crime was committed.
Several journalists who were critical of the government were also forced into exile.