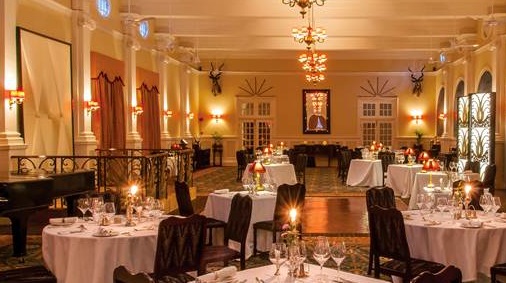 Elegance is a word that never strays far from the mind during a stay at The Victoria Falls Hotel, and this is true for the design style and layout of the hotel as for the component parts that make it one of Africa's genuine hospitality gems. Among these components, of course, is the cuisine, which is aimed at a highly diverse clientele, many of whom have dined at the world's most distinguished restaurants. EPICUREAN
On my most recent visit, in early December, I was able to enjoy different dining experiences in three venues within the hotel: Jungle Junction, Stanley's Terrace and The Livingstone Room. What impressed me was the consistent standard of the food, as well as the really good service from staff, who made me feel they were genuinely pleased to be of service – that sought-after but often missed offering which leaves a guest neither alienated nor feeling patronised.
With good leadership from general manager Giulio Togni and deputy general manager Farai Chimba, it is clear to guests that the team at this hotel works hard to ensure guests have their expectations met on coming to a hospitality establishment that is both world-famous and highly recommended by many discerning travellers. They seem to understand that elegance is not only to be found in the furnishings and décor, but also in the service and in the other aspects of their overall offering.
Dinner on my first night was a trip to Jungle Junction, which is a u-shaped building under thatch, without walls, providing a view directly across the bush to the falls, the spray from which towers overhead during peak flow periods. Diners can also choose to eat al fresco, in a courtyard between the lines of the "u" and on a clear, moonlit night, this is heavenly. On the night I dined there had been a huge storm and light rain was still falling.
This meant, of course, that the Africa Spectacular dance show was not laid on; sad, but understandable. I have watched Africa Spectacular for many years, dating back to its original existence, more or less on the same spot as Jungle Junction now stands, when visitors sat in a series of stands around a clay-floor dance area. Today, the dancers entertain from just off the dining area, but still provide a range of cultural insights into performance styles of a number of tribal groupings from southern and central Africa. Jungle Junction was created when The Victoria Falls Hotel underwent a major renovation and refurbishment during the early 1990s, and has quickly become a popular and efficient venue for buffet dining. Breakfasts are served here, as is the buffet dinner, with occasional lunchtime activities on special occasions.
The buffet is extensive, first with cold soups, a hot soup of the day, salads and other starters. A wide range of kitchen-baked breads and rolls is served, though I cannot imagine making headway with these when there is so much else on offer. On the night I dined, I sampled a delicious mushroom soup with croutons, which was flavoursome and very "more-ish". The central station features prepared hot offerings, as well as a range of meats that can be cooked to your own specification while you wait. Something new is the sushi bar, with an array of attractive and — said one of the Italian guests who made use of it — very tasty. I selected the oxtail, which was tender and served in a superb sauce.
On a separate station is a series of delightful desserts — from ice-cream and fruit salads through to crème brulee and chocolate mousse. I selected two different panacottas and was pleased with these, served with a thick cream.
Over coffee I enjoyed the range of languages around me, with guests who obviously came from as far afield as the USA, South Africa, Italy, China, Russia and Germany. They were enjoying the very relaxed atmosphere of Jungle Junction and spent time talking to staff about local activities and sightseeing opportunities.
Breakfast each day I was there was also at Jungle Junction, once again hosting a varied and appealing display of offerings, from fruit, salads and breads to cereals and porridge, through to the hot items, including eggs prepared to order. Good fruit juices are served and I even saw some guests enjoying a bucks fizz mix of sparkling wine and orange juice. A newly-printed set of international newssheets is made available to guests so they can catch up with international news and information over breakfast. The morning view over to the falls is really superb — and although December is low-water season — the spray above the falls, especially over the westernmost falls, was surprisingly high.
The Victoria Falls Hotel is a member of The Leading Hotels of the World and is managed by a partnership of Meikles Hospitality and Africa Sun. Accommodation specials from time to time provide a great incentive for Zimbabwean visitors to enjoy the delights of this 111-year-old hospitality masterpiece. Call (013) 44751/62 or visit www.victoriafallshotel.com.
For the coming Christmas and New Year period, The Victoria Falls Hotel is laying on a number of festive treats and seasonal activities. On Christmas Eve, Christmas Day and Boxing Day, there's a Christmas high tea on Stanley's Terrace (3pm to 5.30pm), while special services will be held in the hotel's own Chapel at 11pm on Christmas Eve and 7.30am on Christmas Day. Jungle Junction features a Christmas buffet on Christmas Eve and Christmas Day (lunch and dinner — the former featuring a live band entertaining throughout).