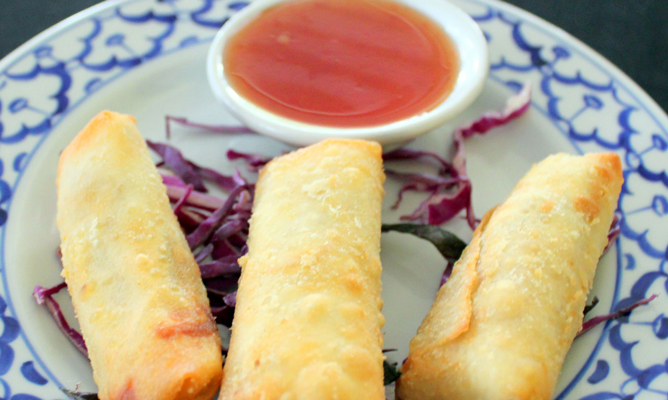 Thai food must be one of the world's most popular culinary styles, as testified by the huge number of Thai food outlets around the world. Even in Harare, we have a choice in this regard, with no fewer than two dedicated restaurants and a specialised takeaway.
EPICUREAN
A meal at Chang Thai restaurant in Harare's Gun Hill suburb — fairly central to just about all northern suburbs and city centre populations — confirms just why this is so. Thai food is visually appealing, a delight to taste and its flavours are so varied and tangy that they are actually entertaining.
My first exposure to Chang Thai was when it was based in the Msasa industrial area, situated in an old farmhouse with a unique charm. Whenever I went there it was busy, but I understand trade decreased, especially at night, thus necessitating a move. Over the years I have seen restaurants move and fail after doing so, but my observation about the numbers visiting the new venue in Churchill Road, Gun Hill, makes this unlikely, I am glad to report. This was my first visit to the new venue.
After three years in Msasa, the restaurant moved to its new home about a year ago and things look bright, not the least because of the welcoming ambience provided by owners Bruce and Aui Macdonald and their team. Aui supervises the kitchen very loosely and has a Thai chef, so the food is genuinely Thai.
The menu tells you that Chang Thai means Thai Elephant, and goes on to say how revered the elephant is in that south-east Asian country. The décor is simple and neat, and there's a choice of being seated inside, on the verandah or in the garden. When we visited on Tuesday lunchtime, there was a possibility of rain, so we chose the verandah, which was cool and pleasant, and there was a sprinkling of guests, including more than a few of the NGO and diplomatic community.
My guest selected a sesame prawn starter, koong chup pang tod – three deep-fried tempura prawns with a sweet chilli sauce, which she found exceptional. She followed this with crispy duck, known as ped tod, served with a special dark sauce and what looked like mountains of tender and juicy mushrooms, all of which she found delightful. I sampled the duck and was also impressed; genuinely crispy but without the dryness that sometimes removes the charm of the dish.
I had a hot and spicy prawn soup for starter – called tom yum koong – and it was not only tasty and satisfying; it was also very substantial, filled with prawns, mushrooms and herbs and I had asked for mild so I was not overwhelmed by any heat. This most certainly could serve as a satisfying meal on its own. For main course, I had – as I had several times at the old venue – a green curry, this time a prawn-based one; I could have chosen vegetable, chicken or beef options of the same curry. Called gang keaw wan, this was really enjoyable, with a superb coconut flavour infusing the prawns, vegetables and sauce, and a freshness emanating from the herbs. We had steamed plain rice to accompany.
We managed dessert — only just. My guest had sticky rice with mango slices, which she said was good, while I had a simpler choice: ice cream with mango slices. The desserts are really simple, and I wonder just how many people do actually manage to get to this course after a starter and mains; we had take-home packs from both main courses.
The menu is big: five starter choices that include spring rolls, satay chicken and chicken nuggets, but we could also have selected a seafood mixed platter which serve two very easily, with two spring rolls, two satay chicken skewers, two sesame prawns and calamari.
There are five soups, including some very hot and spicy choices, and the seven salads are huge main courses on their own. A duck section has four choices; aside from the crispy duck, there are angry duck (stir-fried duck in a red curry paste), duck basil (also stir-fried, but with a Thai basil sauce) and red curry duck, cooked in a red curry sauce and coconut milk, and served with vegetables and pineapple. The Thai curries offer choices of content — usually prawns, beef, chicken or vegetables — and the choices of flavouring include green curry, red curry, massaman curry (a traditional That dish cooked in palm sugar, peanuts, tamarind, potatoes, onions and coconut milk. There's also a substantial stir fries section, with six types of dish and also offered as prawns, vegetables, chicken or beef. All the main courses can be served with starches: rice or noodles, plain or flavoured.
Prices for starters range from $4 to $8, while soups are $5 to $8. Salads are $6 to $10, while duck dishes are all $22. Curries range from $9 to $18, and stir fries from $8 to $18. Rice comes in between $3 and $18 (the latter for That fried rice with varied and substantial content), while noodles come in from $2 to $18 (the latter also a main dish on its own). Desserts are $4 to $6.
The wine list is also a very good one: there's a big selection from La Distra Brut, made up of Graham Beck and Steenberg labels, while The Stable Winery has a section that offers La Motte, Capr Point Splattered Toad, Pierre Jourdan, MAN and Vergelegen wines. A section from Boplaas, which is doing good work providing old world styles along with new world offerings features five labels. Moldon Marketing and Afdis have a section that brings the choice of Nederburg wines — eight reds and six whites. I think the pairing of wines with Thai food must be something of an art and Bruce advises guests on his recommendations. We did not have wine with our food, but I could imagine any number of combinations from the very wide range available on the wine list.
Chang Thai opens from Monday to Saturday for lunch (12pm to 3pm) and supper (6pm to 10pm) and is closed on Sunday and public holidays. I understand Fridays and Saturdays can be extremely busy and advance booking is recommended. The Macdonalds enjoy the chance to offer personalised service and they like to offer their advice and expertise to guests, especially newcomers to the world of Thai cooking. A great dining and social experience, with a genuinely exotic cuisine, both exciting and interesting, right in the heart of suburban Harare, in a venue that has gained a very good reputation both in its old home and in its new venue. Chang Thai, 83 Churchill Road, Gun Hill, Harare. Telephone: (04) 783054, 0779 763666 or 0773 222276. E-mail: changthai_zim@hotmail.com.
The Standard's advertising and sales staff are finalising plans for the first edition since 2001 of The Easy Guide to Zimbabwe's Restaurants, to be published at month end. This is aimed at being a handy guide — mirrored by a permanent online edition — to the restaurants, coffee shops and other eateries of Zimbabwe. If you are not in, restaurateur, call (04) 773934 and ask for the ad sales team. Readers will find this a valuable reference guide to what's available to them; even in these exceptionally challenging economic times. It's amazing how many restaurants keep going and giving great service.
Readers feedback No responses came from my reader's comment about non-use of credit or debit cards, so herewith repeated: "I am an avid follower of your articles, as they give me an overview of the different eating places around Zimbabwe and I am a frequent traveller. I have noted with great concern the lack of pay point machines for paying for meals. It seems as though we are having an IT boom as a country, yet most of our restaurants are fixed on good, old-fashioned cash transactions! I find this disheartening, especially as we seek foreign visitors who don't carry cash on them, let alone being able to find a decent ATM from which to withdraw cash." Perhaps restaurants would like to comment?