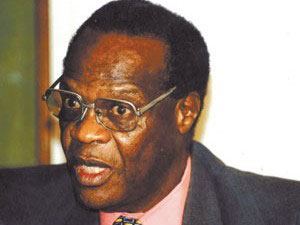 REGISTRAR General Tobaiwa Mudede claims he received threats from the media and "high places" while writing his controversial book on family planning.
BY VENERANDA LANGA
Mudede launched the book titled, Genetically Modified Organisms (GMOs) and Population Control Drugs in Developing Countries in Harare on Friday.
However, the controversial Mudede said threats and intimidation will not deter him and his co-author Richard Hondo from propagating their theories against modern contraception methods in favour of traditional methods because they had fought many fierce battles before.
Addressing over 100 people who had attended the book launch, Mudede said their families feared they would be killed.
"It is a journey in which we have been threatened and our families thought they would lose us and we were warned by MPs to prepare for trouble," he claimed.
"We are not to be threatened, we are not afraid, because Mudede has fought physical battles in Mbare in stage fights, and I can use a riffle and hit a buffalo at 173 metres.
"I hunt the big five except lions, and so when you face this man who does not have a big tummy, you should know he is not afraid."
Hondo added: "When we were writing this book, we were given pressure from intimidation, threats, but there is always a price to pay whenever one man tries to do any service for another."
In his book, Mudede challenged journalists from The Standard and NewDay, Phyllis Mbanje and Veneranda Langa to offer better methods of family planning if they thought his were not good.
"To those who thought differently, NewsDay scribes Phyllis Mbanje and Veneranda Langa being prominent in this group, we say it would have been more helpful if they had offered better methods than we are advocating, rather than just vent their perpetual displeasure with the authors, or advocate the continued use of clearly harmful drugs," Mudede and Hondo wrote.
Conspicuous by their absence at the book launch were Ministry of Health officials.
In their book, Mudede and Hondo attacked modern family methods like depo-provera, norplant, jadelle, and others, saying they are a threat to women's health and a ploy by the West to control Africa's population growth.
The book lists more than 57 defects that it claims were caused by modern family planning methods. Mudede and Hondo also give advice on how to use traditional birth control methods like withdrawal, abstaining from sexual intercourse during the fertile phases of the menstrual cycle and herbal remedies.
The two also bragged about their slim bodies, saying they never consumed GMOs, which they say are very harmful to health.
Speaker after speaker during the launch praised the book, and women gave testimonies alleging modern family planning methods were bad and harmful to their health, causing excessive bleeding, loss of libido, poor eyesight, headaches, weight gain and a myriad other problems.