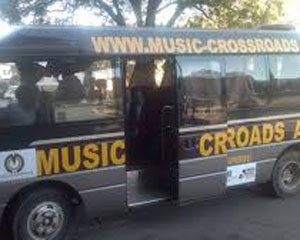 Rising sungura musician Njabulo Nyoni is set to unleash a six-track album titled, Umuntu Uyingozi, which he sings in different languages.
By OUR STAFF
Nyoni, who is based in the Democratic Republic of Congo (DRC) sings in Shona, Ndebele and Nyanja.
"The album contains six songs that include the title track, Umuntu Uyingozi, Mwana Wanga which is a Nyanja song, Mwari Wekudenga, Malanga, Bayakhuluma Abantu and Varume Chichanetsa," he said.
"From my own observation, people are eagerly waiting for the album because it is jam-packed and laden with various languages spoken in most parts of southern Africa. I am trying to reach all corners of southern Africa because I have songs in Ndebele, Shona, Lingala French and Nyanja on the album."
Nyoni, who is yet to hold any live shows in the DRC, recorded his album at Jabulani Ndhlovu Studios in Harare.
"I haven't done any shows here in DRC but I did two in Bulawayo in January at Waverly Hotel," Nyoni said. "The shows were meant to introduce my brand to the people and promoting my album. People appreciated our music and they were asking for the CDs to buy."
Popularly referred to as Igwee in the DRC because of his Nigerian way of dressing, Nyoni said his music was a blend of African beats.
"I sing sungura, which I prefer to call deep African sounds [Das] music. It is a mixture of rhumba, kanindo and traditional African sounds," he said.
Nyoni, who was born and bred in Tsholotsho, describes himself as a social commentator.
"In my music, I try to encourage people to soldier on despite facing difficult times. I also sing about things that are making us fail to pray to God while I plead with the Almighty to help us in trying times," Nyoni said.
"On the song Bayakhuluma I sing about a man who went to South Africa in search of greener pastures and the man is told that his wife was having an extramarital affair but surprisingly he does not take any offence in that and stays with his wife," he said.
Nyoni said music was his first love and he has never looked back.
"It all started in 1991 when I was in Grade Seven at Tshino Primary School in Tsholotsho. I was a member of the school choir and we won a ticket to represent the district at a choir competition in Bulawayo. It was my first time to visit Bulawayo," Nyoni said.
"When I was in Form 2 in Kezi, I wrote a song titled, Upenyu Wakaoma Sedombo and since then I have been writing songs. I have more than 100 songs which are yet to be recorded."
Nyoni said just like any boy growing up in the rural areas, he fell in love with sungura music which was a popular genre at tea parties.
"We were exposed to the music of Shepard Musekiwa, Zex Manatsa, Leonard Dembo, John Chibadura, Khiama Boys, Ndux Malax and Solomon Skhuza, among others when we were growing up," he said.
However, Nyoni said Alick Macheso inspired him more and he believes the Madhawu-hitmaker was in a class of his own. He said Ndux Malax and Solomon Skhuza played a role in his career and was following in their footsteps.
Nyoni's backing group is called Rising African Stars.