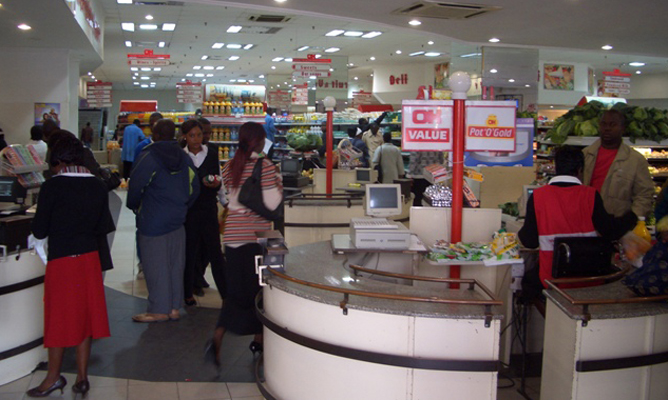 Local manufacturers are now turning to smaller packaging as they search for the elusive dollar, a move that has spawned a shift from bigger packaging due to the harsh economic environment.
BY TATIRA ZWINOIRA
The informal market had already gone that route with the introduction of the "tsaona" (repackaged emergency food products) consumed within a short space of time until consumers' financial positions stabilised. This involves buying products that are in big packages and repackaging them to suit the demands of the market in case of emergencies.
This was in response to the liquidity shortages and the low disposable incomes that had seen households buying products for daily or weekly consumption instead of monthly spending. Latest statistics from statistical agency, ZimStat show that on average, the majority of Zimbabweans are surviving on $1 a day for food and $3,23 on both food and non-food items.
Manufacturers have taken into consideration the low disposable income and have reduced packaging sizes for products such as milk, cooking oil and washing powder. Milk and dairy products producer, Dendairy, is selling its full cream milk in 250ml packs as compared to the average 500ml. In the cooking oil business, 750ml bottles of Olivine have bounced back and are enjoying brisker business than the 2litre bottle. Recently, Unilever Zimbabwe introduced 30g sachets onto the market for its Omo and Sunlight washing powders, selling for $0,15 per pack.
Smaller packaging is also found in non-basic commodities such as alcohol and cigarettes as companies hunt for the elusive dollar. Cigarette manufacturer Savanna has come up with smaller packages for its products with cigarettes being sold in smaller packets of 2s instead of the 10s and 20s.
Speaking on the growing trend of smaller packaging, Buy Zimbabwe vice-chairperson Oswell Binha said imports were the ones that started influencing manufacturers towards smaller packaging.
"Another issue is to do with the packaging industry; because we have been importing so much there are certain trends that we have tried to copy from those imports. If you look at imports from South Africa, they have influenced a certain pattern of consumption, why? Because some of the products do not have long shelf life and people are so much used to consuming South African products while their denomination is very different from ours," Binha said.
"Manufacturers have seen that people are opting for smaller denominations of particular product lines. I think the first thing you need to understand is that in any economy there is a level of disposable incomes. The level of disposable incomes certainly determines the level of consumption per family, and Zimbabwe's levels of disposable incomes has gone down because not many people are employed."
He said packaging now spoke to the fact that a person might not be able to afford a 5kg product as opposed to a 1kg or a 0,5kg and that they might rather purchase those.
Economists say that recent trends in retail shops had shown a shift from using trolleys to baskets on purchasing goods in retail outlets.
A survey by Standardbusiness at a number of supermarkets showed that many consumers were purchasing food and non-food items enough for daily usage as compared to monthly shopping.
Confederation of Zimbabwe Retailers president Denford Mutashu said he had seen small packaging being introduced mostly for basic commodities in the retail sector.
"We did not expect to see this happen but most of the basic products now have smaller packaging. It is a response to market forces and purchasing trends of consumers. Of the people who do have jobs, they can go for months on end without getting salaries and this affects money in their pockets," Mutashu said.
"You have an environment where demand is going down and local industry has responded to that trend."
The advantage for local industry is that demand for their products greatly increases as the products become more affordable, he said.
Confederation of Zimbabwe Industries president Busisa Moyo said, "We must switch to product pack sizes the market can afford. It's just increasing the proportion of value packs or small packs".
He said one of the reasons why the informal sector was growing was because it was selling smaller packaged products.
N. Richards Group wholesalers director Archie Dongo said as the economy was mostly informal, an operator made his money on a daily basis, which meant that he could only buy for daily usage.
"You find that if you look at our economy, most of it is informal so the informal sector operator makes his money on a daily basis and has to eat on a daily basis. If you compare that to the employed person that gets paid once a month and they do their groceries once a month, the informal sector player has to buy what they require for that day, on that day," Dongo said.
"So they have to ensure that whatever they make on that day is enough to buy vegetable and meat and whatever else they need for that day. I think it's a response to the sort of purchase behaviour on the market. People have smaller amounts of money."
Binha said the drive towards smaller packaging was a welcome move as this ensured that local players tapped into new sources of revenue.