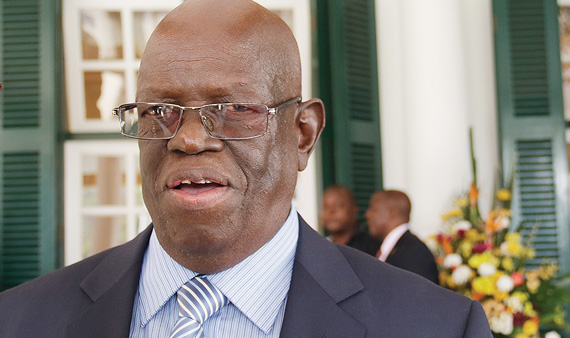 President Robert Mugabe recently held a meeting with war veterans at a time the ex-fighters were deeply divided along Zanu PF factional lines.
One group — led by elected chairperson Chris Mutsvangwa — is linked to Vice-President Emmerson Mnangagwa and is involved in intense power games with another led by Manicaland Provincial Affairs minister Mandi Chimene. Chimene's group is linked to the G40 faction in the ruling party that has the backing of First Lady Grace Mugabe.
New War Veterans minister Tshinga Dube (TD) played a significant role in bringing the warring factions together before the meeting with Mugabe. Last week he reflected on the outcome of the meeting in an interview with our reporter Xolisani Ncube (XN). Below are excerpts of the interview.
XN: Minister, can you first tell us, how many war veterans are registered with your ministry at the moment?
TD: Well, we have over 34 000 war veterans who are supposed to be under the care of government as stated by the Constitution.
These are war veterans who underwent a vigorous vetting exercise and proved that they are genuine war veterans.
We, however, do not have an exact number of war collaborators and ex-detainees and restrictees as we are yet to have a law that will define who is a collaborator and an ex-detainee.
When we have that law, we will be able to carry out a vetting exercise to establish how many war collaborators are there so that they are taken care of as stated by the Constitution.
XN: When war veterans met Mugabe, they made various demands, including political ones and those to do with their welfare. Given the economic situation in the country, do you believe the demands are reasonable?
TD: Let me be very clear, it is not the war veterans who made the demands, but the Constitution passed by everybody in the country, which places such an obligation on the State. The comrades were just reminding the leadership of its obligations to them. People should not look at the demands in isolation but look at them from a constitutional point of view.
The law is very clear, that it is the duty of the State to take care of these people. The how part is another issue which has nothing to do with the war veterans. It is our duty as government to ensure we take care of them even if things are hard.
They have a right to be cared for by the State, so whether the economy is thriving or not, their rights should not be jeopardised.
If you listened to the president's address, he told them that things are hard and we have to look at alternative means to ensure their welfare is taken care of, hence those who are saying the war veterans are making impossible demands should start to think outside the box.
XN: But minister, in 1998 government gave these people money, are we not jeopardising our economy by continuing to give in to their demands?
TD: A people without a history are a lost cause. When these men and women sacrificed their liberty and lives for the freedom and future you are talking about they never looked at financial gains but all they wanted was that independence to determine our destiny.
Today we have that freedom, we have that liberty and we are saying thank you to the comrades.
So without them, we do not have a future because history shapes our future.
Again, the issue of benefits is not of their own making but the Constitution, the people of Zimbabwe realised the eternal importance of these people and said let us honour them in this way.
In actual fact, what we are giving is less compared to the sacrifice that they made for this country. We need to understand our history to shape our future.
XN: In the build-up to the meeting with the president, we saw divisions among the war veterans, what is the real cause of the infighting?
TD: It is something that worries me a lot, this is something that I seek to end, the division within the war veterans is very sad. the challenge that we have is that some of the comrades want to be politicians when dealing with war veterans issues.
Politics should be left to the party, not brought into the war veterans associations. If you look at other Sadc countries, they all have united war veterans' movements. These are soldiers of the armed struggle and they follow commands from their leadership but here it is something else. We have a group led by Mlala (George) and another led by Mutsvangwa.
We also have another claiming to be under the leadership of (Dumiso) Dabengwa and so on and so forth, all those groups must be under one team because they are soldiers who fought either under Zapu or Zanu, which is now Zanu PF.
This makes my job very difficult because I am supposed to take care of all veterans regardless of their political affiliation. as long as they participated in the armed struggle, their welfare is the responsibility of the State.
Even if they are in the MDC and so-called People First, we have an obligation to take care of them and they too have to be loyal to the leadership of the day.
This is so because they are soldiers who should follow the political voice of the party leadership which trained them. But it is difficult when they are in groups like this. How do you co-ordinate their welfare when the political ideologies that they are pursuing are different?
My wish is that all war veterans would come under one roof and have their grievances addressed through a clear political ideology, which trained them. As soldiers, they should listen to the political ideology of the party as trained during the liberation struggle.
XN: But what have you done to bring all war veterans under one roof?
TD: It's a process and we all have a duty to unite each other as war veterans. this idea of politicising the war veterans' issues must come to an end.
Those who have political ambitions should not use the war veterans to propagate their ambitions but they should go to the party.
I have told the warring factions or groups that as government, we will not interfere in the way they manage their leadership issues.
To us, Cde Mutsvangwa is the leader of the war veterans as elected by the congress.
We have no mandate to revoke that, if they feel he is not fulfilling his mandate, it is up to them to revoke the mandate and organise a congress to choose a leader whom they want. Not us as government. We will not at all interfere in that, so they should know that the executive leadership of the war veterans is not selected by the minister but by they themselves.
XN: Mutsvangwa was your boss when he was a minister, how do you relate to him?
TD: Very well, he is a comrade just like me. We have no bad blood at all. He has never attacked me at any platform and I will not hate him for any reason.
The allegations levelled against him stem from the party and his alleged crimes are political and it is the party that can deal with him, not war veterans. You must understand that the party is a broad-based social movement encompassing non-war veterans and war veterans.
So whatever crime Cde Mutsvangwa allegedly committed, as war veterans we have no jurisdiction.
XN: After the meeting with the president, do you see a united war veteran's movement? Some feel that it was a mere talk show.
TD: aaahhh (laughs) my son. It's unfortunate that those with that warped view are not war veterans. If they are, then they are blind.
From my view as the minister, we are walking towards a united front. I just want to warn those who wanted to use the war veterans to remove President Mugabe that war veterans are his soldiers, they will never remove him.
Politicians should not try to abuse war veterans; people must learn to campaign and win through elections and not try to use other people or institutions to do their dirty job. We are going to be united and defend the ideals of the liberation struggle as well as fight for our rights.
We know that some thought war veterans were going to revolt against their commander, never; we are trained people who know how to deal with issues and not individuals.
Even if there is a change of government today, war veterans will respect that government because we are fish in the water. I hope you know what I mean.
XN: kindly explain…
TD: We depend on the wishes of the people who sent us to fight for the freedom and we will gratefully oblige to their wishes.
Even if you change a government today, that will never take away the fact that Tshinga Dube is a war veteran. this is a stubborn fact we have to live with.
So currently, we have to support the president and his government as mandated by the people. This is not about personalities, but institutions.
XN: Well, thank you very much minister. your last words. . .
TD: War veterans must be united and work together. we don't want fragmented groups representing same interests. we must all work for one purpose. Those who want to do politics, [should not do it] through war veterans' but the party is there, Zanu PF.
War veterans are soldiers who follow politics and when in the political movement, we are loyal to the leadership as given to us by the people.