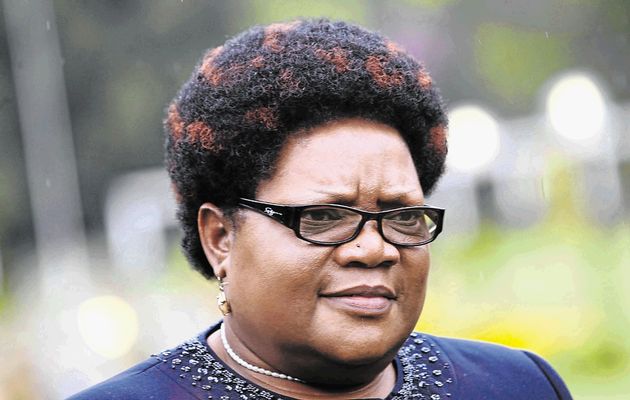 Former vice-president Joice Mujuru is preparing for a countrywide tour to drum up support for her newly-formed Zimbabwe People First (ZimPF) as opposition against President Robert Mugabe's 36-year-long rule gets a new impetus.
BY XOLISANI NCUBE
ZimPF registered its symbols with the Zimbabwe Electoral Commission last month, marking Mujuru's entry into opposition politics after her unceremonious departure from government last year following allegations that she plotted to topple Mugabe.
After the registration, Mujuru unveiled ZimPF at a low-key media event that was followed by a flurry of interviews with leading foreign media outlets.
Mugabe's former lieutenant then retreated into hibernation and some critics were beginning to question her strategy.
But ZimPF spokesperson Rugare Gumbo said yesterday the ZimPF leader would soon emerge out of the woods and embark on a recruitment drive that would see her travelling across the country.
"We are preparing for her to embark on a nationwide tour to meet with the people as we drive to recruit more ahead of the launch and congress," he said.
"We are at the fundraising stage and planning, so I can't tell you when we will embark, but very soon."
Last week, Mujuru reportedly told party youths in Harare that ZimPF would be registering new members between now and June.
Mujuru said a membership card similar to a visa card with a chip was being designed and would be unveiled soon.
"In July, there shall be ward elections followed by elections at constituency level in August; come September provincial polls and then October elective congress," Mujuru told the youths.
The former Zanu PF number two was dumped at the party's congress in December 2014 before being expelled alongside several other ruling party stalwarts on allegations of plotting to remove Mugabe from power.
Among the ex-Zanu PF stalwarts who were fired together with Mujuru include former party secretary for administration, Didymus Mutasa, a host of senior party members in the provinces.
Late last year Mujuru produced a somewhat manifesto dubbed, Build, which she said represented the ideology of her party.
She has vowed to dislodge Mugabe — a man she still respects, but views as power-hungry and now clueless on how to manage the collapsing economy.
The move comes as the mainstream opposition MDC-T led by former prime minister in the inclusive government; Morgan Tsvangirai last week held a mass demonstration in the capital-a development analysts said was a show of force by the former trade unionist who almost dislodged Mugabe from power in 2008.
It also comes at a time calls for coalition of the opposition parties were getting louder with the MDC-T leader saying he was willing to engage in talk with a political party and not individuals.
Observers have said the mass demonstration attended by thousands of party activists confirmed that despite a recent split in the MDC-T, Tsvangirai was still a force to reckon with in the opposition politics.