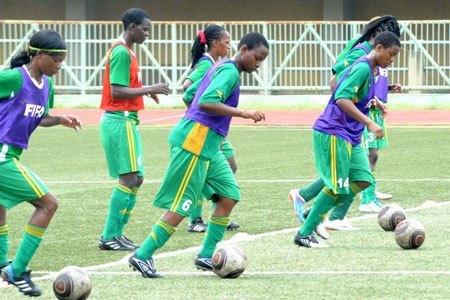 The Zimbabwe women football national team, the Mighty Warriors — who have delivered success for the country qualifying for the Rio Olympics and lately the Women Africa Cup of Nations under difficult circumstances — may have to make do with the usual ad hoc preparations for the Rio Olympic Games as Zifa remains mum on camping for the team.
BY MUNYARADZI MADZOKERE
After being drawn in the tough Group F with Germany, Australia and Canada, the Mighty Warriors may need more than just the resilience they have shown against fellow African opposition in Rio.
With barely four months to the Olympic Games remaining, Zifa is yet to come up with a clear preparatory schedule that should also include a training camp in South America to give the girls enough time to acclimatise and focus on the event.
During a press conference at his Chisipite offices on Friday, Zifa president Phillip Chiyangwa admitted what has been arranged so far is a warm-up match with New Zealand a few days before the competition begins.
"So far, we have been very good with the facilities that we have despite the challenges we are facing. We can't match the standards of Australia, Canada and Germany, but given the challenges before us, I think we will beat one or two giants, you know how good our girls are," he said.
"I can announce that the Mighty Warriors are playing New Zealand in Brazil as a friendly just before they enter into the competition and that has now been finalised. I asked South Africa for a friendly and they refused. We should have played a friendly between us and them before we go there [Olympics]. No response means refusal, but if they had agreed, we would be playing a friendly with them soon. I think I may have to call [South Africa Football Association president] Danny Jordaan and pressure him a bit and see how it goes."
The Mighty Warriors, coached by Shadreck Mlauzi, qualified for the 2016 Rio Olympics in October last year and many promises were made to the team, most of which have not been delivered.
If anything, they are still owed allowances dating to the final qualifier in which they beat Cameroon to clinch the sole ticket to the finals.
Last week, the ladies team beat Zambia 4-2 on aggregate to book a ticket to the 2016 Africa Women Cup of Nations finals and the team did not receive any financial boost, but the government — through Sport and Recreation minister Makhosini Hlongwane — pledged 30 residential stands.
Zifa president's prodigal benefactor, Wicknell Chivayo, who was present at the presser, brought $30 000 in cash meant for Pasuwa's salary and $9 000 of the money was given to the Mighty Warriors, who reportedly had received only $50 each for transport prior to Chivayo's intervention.
Chivayo, who reiterated that he would give the Warriors $250 000 should they qualify for the 2017 Africa Cup of Nations finals, said Chiyangwa had not approached him concerning the plight of the women's team and he was waiting for the Zifa president to do so.
"We bought their coach a car. We thought of that before anybody asked us and in the same vein, Dr Chiyangwa is going to come to me and say: 'The girls have qualified, what must we do for them?' and I will definitely do something for them," he said.
Chiyangwa revealed that BancABC was holding on to $62 000 of Zifa funds coming from Fifa, while a further $87 000 was also on its way from the world football governing body.